So for months now I've been talking about the HORROR DIRECTORS DO COMEDY series on XBOX LIVE, where filmmakers like myself, SAW's James Wan, HARD CANDY's David Slade, HATCHET's Adam Green, AMITYVILLE HORROR's Andrew Douglas, and MAY's Lucky McKee are doing comedy shorts for free HD play on Xbox. And, of course, the show I'm doing as part of that series is HUMANZEE!
Unfortunately, um, well, uh… HUMANZEE! was deemed a bit too, how shall we say, EXTREME, for our Xbox Live sponsors. I tried to tell them that it wasn't MY fault that my half-human/half-chimp son loves to kill women and eat babies. HUMANZEE! is a hard-hitting look at the world of human-animal hybrids! We had no choice but to show the cold, dark truth of what goes on in these situations!

But they weren't buying it. They asked me to cut the extreme stuff. This would have left the first episode of HUMANZEE! at about twelve seconds long.

SO, I made a deal with the fine folks at Microsoft. I take HUMANZEE! free and clear to do with as I choose, and I will give them another series that I had been developing anyway – SPARKY AND MIKAELA. Fret not, our poor little unloved HUMANZEE is in the process of finding a new home as we speak. So, including PG PORN, you will now have at least three James Gunn shows in 2009 as opposed to just two. And fret not too – SPARKY AND MIKAELA is no HUMANZEE LITE. It's a unique story in and of itself, just not as much of an over-the-top abomination as HUMANZEE.
And, although I love HUMANZEE! more than perhaps anything I've ever done, it is, indeed, an abomination.
So here's me with the star of SPARKY AND MIKAELA, Mikaela Hoover (from SORORITY FOREVER and HUMANZEE), to tell you a little more about it…
Yes, SPARKY AND MIKAELA is the story of a raccoon/human superhero team. They fight crime in both the forest world and in the world of human beings. I think of it as my first "message" piece.
After generations of us humans warring with our natural enemies, raccoons, it's a plea for us all to just get along. It's also a plea for more shows with girls wearing sexy superhero outfits fighting along Muppet-type procyonids.
The show will also star my good buddy Gregg Henry – whom many of you know as Mayor Jack MacCready in SLiTHER – and my brother Sean Gunn – whom many of you know as the-guy-who-hangs-out-in-the-Beverly-Center- bathroom-tapping-his-foot-in-the-third-stall-down. The show will be shot and edited by my partner Pete!!! Alton, produced by Dave Yarvo, and our first AD will be Tres Stamos. Perhaps best of al, there will be an awesome theme song written by myself and Terra Naomi.
We start shooting this month. Do YOU want to be involved with SPARKY AND MIKAELA? Well, if you're incredibly talented and amazingly cheap, it's possible — we especially need someone to build our Muppety puppets, somebody to do CGI visual effects, someone to do extensive Photoshop work, free PA's, and more. Send links to your pics of puppets you've created or work you've done to our production company at our new MySpace page, GOOD BOYS PRODUCTIONS. (NOTE: Not to MY MySpace page. [Sigh. I know I'm saying this and I'm still going to get dozens of messages about it today. But, seriously, NOT HERE]).
While you wait for SPARKY AND MIKAELA, here are some pics of Mikaela Hoover modeling PG PORN and HUMANZEE! gear. You can buy this stuff, and lots of other weird shit NOW, in the JGAS store! All photos below are by Angie Riemersma.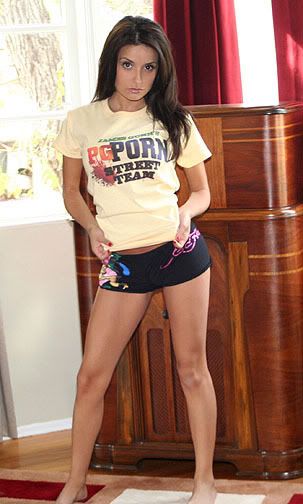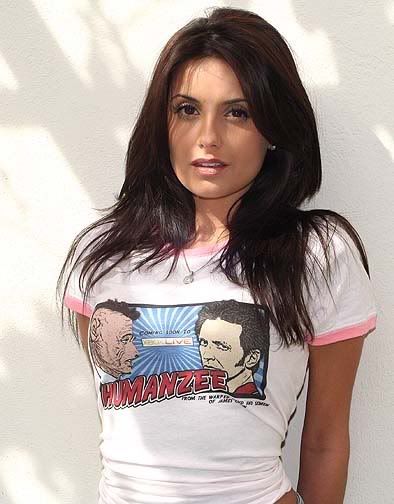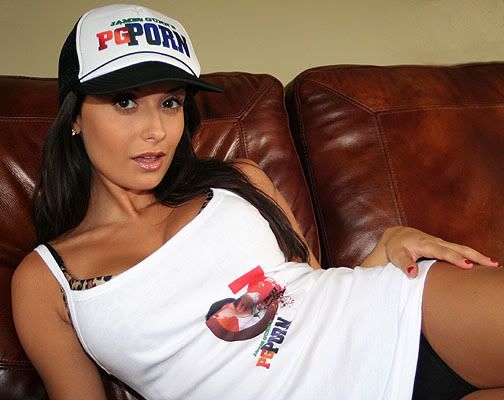 Speaking of the HUMANZEE, check out this kickass Humanzee o' Lantern by Holly!
Watch the new episode of SCREAM QUEENS tonight on VH1! And come back here tomorrow for another BEHIND-THE-SCREAMS blog, SCREAM QUEENS Episode Two!!
And do something nice for a raccoon today!
Fuck off,
James
© 2008 – 2009, James Gunn. All rights reserved.