SCREAM QUEENS MINI-REUNION
Last night my brother and I had one of our Sunset Sunday get-togethers, and invited some of the Scream Queens for the first time, along with the regular cast of characters. We all had a fantastic night, so I thought I'd quickly share these photos with you.

Michelle Galdenzi, Lina So, guy, Shawnee Smith, fucker, Sarah Agor.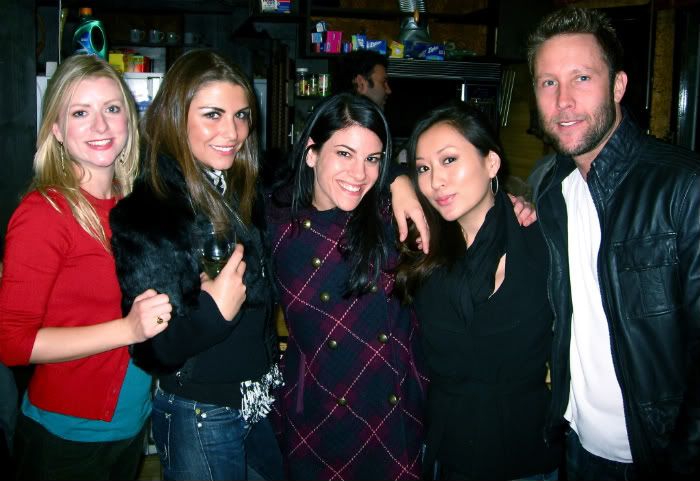 Joanne Krupa, Michelle, hair metal siren Terra Naomi, Lina So, PEANUS/SMALLVILLE star Michael Rosenbaum.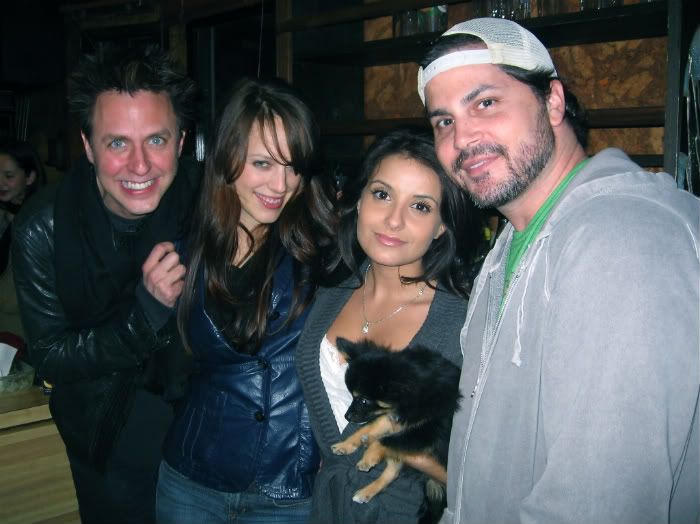 Me, HUMANZEE star Mackenzie Firgens, SPARKY AND MIKAELA star Mikaela Hoover, Mikaela's real-life sidekick DEJA, and HATCHET/FAIRY TALE POLICE director Adam Green.


Sarah, Michelle, SAW/DOGGIE HEAVEN director James Wan, me again, Lina, Joanne.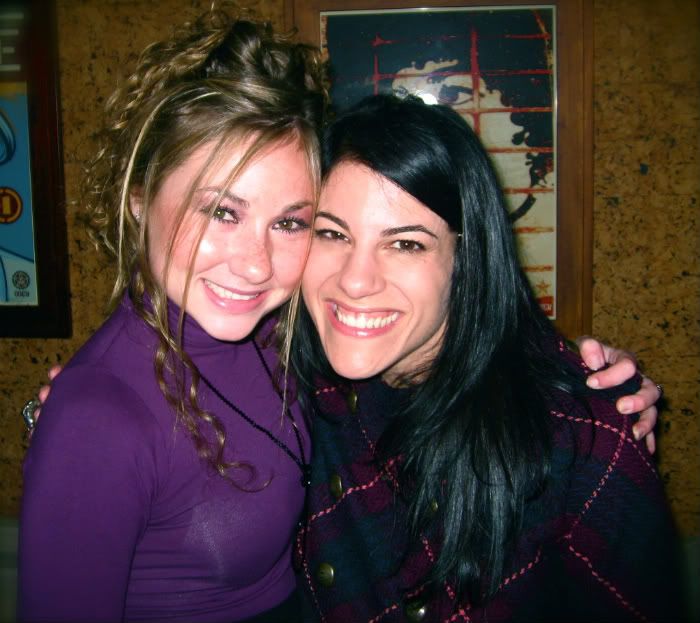 Sarah and Terra. "Our names rhyme – let's be best friends!" Yeah, I think it's a stupid reason to be best friends too. But it's not my place to judge.


Sam Englebardt, Lina, Sean Gunn.
Believe it or not, not a single fight broke out during the entire evening. The Gunn brothers buried the hatchet with Lina, and we will never again fuck with her.
Honestly, we had a great time with EVERYBODY. It was great getting to know Joanne, who is a super cool chick, and who I really shouldn't have kicked off first. That should have been Lina (Fuck! I just broke my own rule!)
For me, it was a great coming-together-of-worlds: Three of my brothers were there, all my old friends like JP, my girl Terra, of course, as well as Pete!!! and all the folks I've been shooting digital shorts with over the last year, my horror friends, and, of course, the SCREAM QUEENS.
If only Rooker wasn't in Thailand, it would have been a perfect evening. Strike that: what I meant to say is, because Rooker was in Thailand it was a perfect evening.
There were a lot of highlights, including Sean and Lina settling their beef in a dance off, and Sarah and I explaining to Shawnee all the post-show drama that happened in these new-fangled things called "blogs." (I don't think Shawnee's Commodore 64 can handle blogs.)
It was also fun introducing all the girls to SAW director James Wan who, in a way, I think of as their actual creator. I know you may think of that as a putdown to God but, you know, if you like SAW as much as I do it's kind of a compliment. Because SAW is way cooler than a lot of things God made, like a bush or a rabbit, most bugs, etc.
Marissa was there earlier in the night, before I got off my lazy ass to grab a camera. Tanedra, sadly, couldn't make it — although our Scream Queen, she's still working her ass off in two jobs. I talked to her after she got off work at about 1 in the morning — I think she was willing to come by, but by that time I was "faded", since I had been there since five in the evening.
And by "faded" I mean, "vagina." (Boy, that joke never gets old. And by "never gets old" I mean – yes – "gets very, very old".)
Lindsay and Jessica were in New York and couldn't make it. Who knows where Homa was, or Angela, who I thought was coming. But I think I fucked up with Kylah, who I thought would hear about the party from the other girls. But, after asking around, I don't think anyone told her. Sorry, Kylah!
But, overall, it was one of the best Sunset Sundays of the year. Right after the one where Rooker got sprayed by a skunk.
MEANWHILE…
Terra and I have continued to post our 12 DAYS OF HAIR METAL.
Yesterday, Lita Ford's KISS ME DEADLY:
Today, the Scorpions' BELIEVE IN LOVE:
And there are NINE more coming – one every day until Christmas – our own little Advent Calendar of Kickass! Go subscribe to Terra on her YouTube channel to stay updated.
Finally, I hope to have some PEANUS interviews tomorrow, and for PEANUS to go live this Wedsneday. We'll see.
See you soon, fuckers,
© 2008 – 2009, James Gunn. All rights reserved.