FIRSTLY, THANK YOU –

For all of your support of PG PORN: PEANUS. The piece was an enormous hit on IGN and the feedback has been overwhelmingly positive. From the brothers Gunn, Rosey, Bella, Pete!!!, Stevie, and the whole PEANUS crew, we really appreciate it.
SECONDLY –
PEANUS is now on YouTube. If you could please go to it, RATE IT, and comment, we'd appreciate that too – RATE PEANUS HERE.
AND, THIRDLY –




Look for A VERY PEANUS CHRISTMAS sometimes this Monday, also on IGN. If you liked this episode, you're really going to love that one, as it has a bunch of surprises.
MEANWHILE,





The 12 DAYS OF HAIR METAL continues.

Day 8: Terra Naomi performs Hanoi Rocks' Oriental Beat

For the past few weeks, Terra Naomi and I have been listening to hundreds of "hair metal" songs in preparation for 12 DAYS OF HAIR METAL, trying to pick the right tunes for you guys. We wanted songs that:
1. Fit into the category of "hair metal", however loosely.
2. Were actually good songs, although were probably lumped into the category of "trash" with a lot of other songs from this era.
3. Were able to be performed by Terra in a unique way.
4. And, finally, it was a plus if they were popular in some way (so that they'd garner more hits on YouTube.)
In all of the bands we listened to, one stood out as the coolest, most rockin' band of all: Hanoi Rocks. Upon Terra first hearing a couple of their songs (specifically, 11 Street Kids and Oriental Beat), she turned to me, surprised, and said, "Holy shit. These songs sound like they could be recorded today. You could tell me this was the Arctic Monkeys and I'd believe you."
And it was true: no matter how great some of the hair metal songs we discovered or re-discovered were, almost all of them sounded dated in one way or another. But Hanoi Rocks, especially on their first three albums, fused Clash-smart-rough-punk, lo-fi hooky melodies, Bowie and Alice Cooper glam, and Aerosmith rock in a way that sounds as current today as it did almost thirty years ago when it first appeared.
Like many of the bands in our hair metal series, it's questionable whether Hanoi Rocks are hair metal at all. They most definitely had the look. In fact, they pretty much singularly created the rock-star-Sunset-Strip look that's so maligned today – back when they started in 1980! (Guns n' Roses almost entirely appropriated their style of dress – in fact, back before GNR were signed, many folks in L.A. thought of them as a Hanoi-Rocks-ripoff band.)
Here's Hanoi Rocks performing on Finnish TV in 1981 – that's only five years after the Sex Pistols. If you're a fan of rock history, it's pretty incredible to watch:
Truthfully, they were pretty glam-punk to start out, but became a bit more "metal" and ostentatious with the release of their first American album, TWO STEPS FROM THE MOVE, in 1984. Here's a slightly sillier video from that era (but still a great song):
I first heard Hanoi Rocks music while I was still in my teens. Until then, almost all of my favorite bands were British punk bands – The Pistols, The Clash, the Buzzcocks, Generation X, the Toy Dolls. I pretty much despised the kind of music Terra and I have been celebrating for the past week – Winger and Warrant and Night Ranger and the like.
But hearing Hanoi Rocks for the first time changed me. It seemed like a kind of music written purely for me, only I didn't know it existed. And it suddenly opened me up to other music I had been closed off to – current bands like Motley Crue and older music like Aerosmith. My musical taste until then had been very judgmental and exclusive. Only certain types of sounds and styles were cool. But the Rocks' style was so inclusive of so many different eras and music genres, that I suddenly felt open to everything. And it's this kind of open-attitude towards music (and films) that I've tried to maintain – it's what allowed me to put Aly and AJ on my top-of-the-year list last year. It's what made me appreciate "Hit Me Baby One More Time" as one of the greatest pop songs ever written. And I discovered some Night Ranger and Journey songs are actually kind of good in their weird, cheesy way (however, all Winger songs are still utterly atrocious).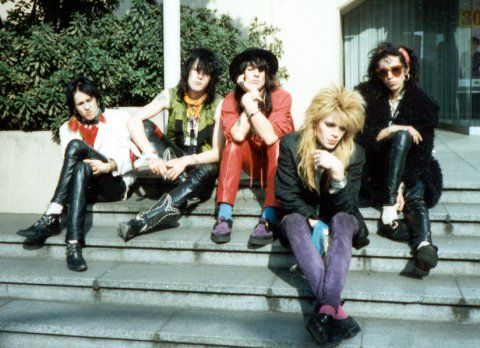 It was also on the day that I first heard Hanoi Rocks that I began growing my hair long. I went from my straight-edge punk days into my glam-rock look, wearing long hair, dyed bright orange, and makeup, the whole thing. And I started doing a shitload of drugs. Maybe that aspect of Hanoi Rocks' effect on my life is better forgotten. But, what the fuck, this is my life: I'll own the whole thing.
Anyway, I'm stoked that Terra did a Hanoi Rocks song for our series. I so, so, so wanted her to do one, but I didn't want to push her into it.
I hope you enjoy it, like the rest of 12 DAYS OF HAIR METAL, our holiday gift to you.
And, for those of you who are interested, here are my TOP 5 FAVORITE HANOI ROCKS SONGS:
1. Dead by Christmas
2. 11th Street Kidzz
3. Tragedy
4. Oriental Beat
5. Until I Get You
See you here Monday with A VERY PEANUS CHRISTMAS.
James
© 2008 – 2009, James Gunn. All rights reserved.