HELPFUL BUS has had by far the most successful first day of any PG PORN yet, even the first episode, which benefited from being a story on the front page of Yahoo news, etc (and which has already passed over two million hits!) Currently, HELPFUL BUS is up to 137,000 hits, and building quickly. A sincere thanks to all of you for helping to spread the word, getting us to the front page of DIGG, etc. Please continue to do so!
You can watch the episode HERE!
Anyway, I thought you guys might appreciate these photos and a few fun (and not so fun) facts about the shooting of PG PORN.

Samantha Yonack, Craig, Mikaela Hoover, Diana Dencker
– This episode was pretty easy to shoot. We had a very small crew and got it done in just a few hours.

– The only folks on the bus would be the actors (including Pete Alton: the "cameraman") and me. I laid some couch pillows behind the seat Havana Bob sits in, and would lie down on my back with a DV camera which we had hooked up to Pete's camera to use as a monitor.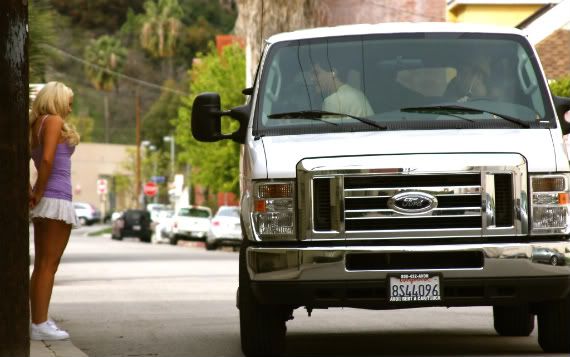 – HELPFUL BUS is, for those of you who don't know, a parody of BANG BUS, a very popular "reality" internet porn show where scummy dudes pick up girls, have sex with them in the bus, and then toss them out onto the streets and drive away. It pretends to be real, but I've talked with a number of people who have been on the show who confirm that it is not.

– I wrote the entire script in one burst of inspiration, in about fifteen minutes. What we shot is essentially the original script: there were no rewrites.

– However, there was some improv on set. Sean's line, "Don't dog me out like that, dude!" was added by him during the scene. When Sean says that, followed by Craig's laugh, is probably my favorite moment in the episode: It's obvious these dudes enjoy each other's company so much more than that of any hot girl they might pick up.

– And I thought of Craig's line, "My Dad died of alcoholism, bleeehhhh!" while standing on the sidewalk shooting. It may not be the funniest line in the episode, but it was definitely the funniest on set. I ruined a couple takes by laughing.

– The above photo is me telling my brother Brian, the creator of the series along with myself and Sean, about the "Dad died of alcoholism" joke. Brian is usually on set with us, but, because of the tight quarters, he had to stay back at home base (my house.)

– I have, of course, known Craig Robinson for years, since he was on THE OFFICE since the show began. I've always thought he was a great, funny guy who has the potential to be a huge star. He has been on our wish lists of actors to use in episodes since the beginning. I wrote the part of "Havana Bob" with him in mind. All it took was one email to have him agree to do the show.

Craig with PG PORN DP/editor, Pete!!! Alton.
– This was a huge week for Craig – he was in Thursday's THE OFFICE, played a rap star in this weekend's film release MISS MARCH, and absolutely killed it as a fading baseball star in my favorite TV comedy, EAST BOUND & DOWN.

– During lunch, Craig entertained everyone with some piano playing – he was actually quite good!
– My dog, Von Spears, spent a good deal of the day hanging out with Craig, who would sometimes get him to hump his puppy (Von Spears is a plushie).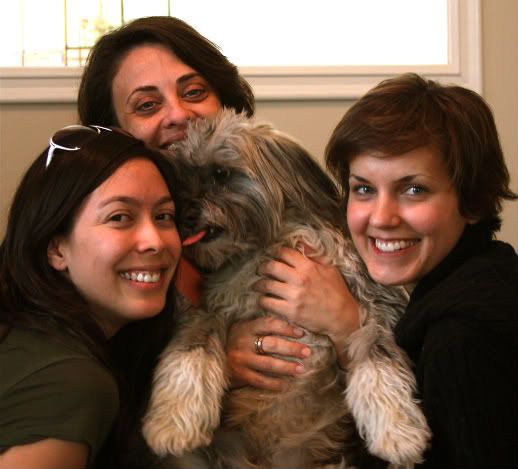 Clockwise: Our producer Iris Ichishita, actress Mara Casey, my assistant Amanda Roberts, and Casanova Spears.
– In fact, Von Spears got a lot of attention that day.

– Another fun fact about Craig Robinson: He's the best wingman in the world. About a year ago I was hanging out with Craig and Stevie Blackehart at a movie premiere, when I noticed a pretty girl across the room. After that, Craig walked away – I thought he was just going to talk to some other people he knew at the party – but I turned a few moments later and saw that Craig was standing there, CRADLING THE PRETTY GIRL IN HIS ARMS. He sat her down in the seat beside me so that we could get to know each other. If you are interested in a girl around Craig, he will deliver her directly to you.

– The role of Jason is played by my brother, Sean Gunn, the other co-creator of PG PORN. You may know him as Kirk from the GILMORE GIRLS. The role was written with him in mind.

– TROMEO & JULIET fans might recognize the #1 football Jersey that Sean is wearing is the same shirt that Valentine Miele wore as Murray Martini in his fantastic death scene.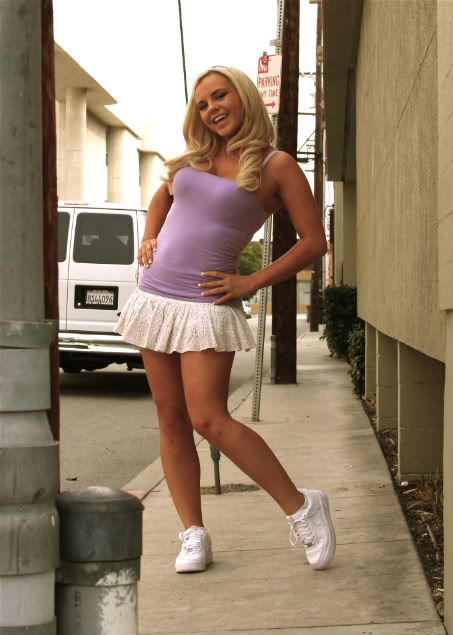 – Bree Olson is a well-known porn star. As PG PORN becomes more popular, more and more adult performers track us down to be in episodes. Bree flew in from Indiana on her own dime to shoot with us.

– Bree's first ever actual porn scene was an episode of BANG BUS.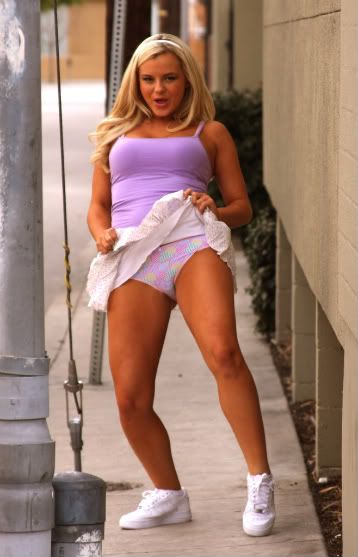 – I was put into contact with Bree through Holly Randall, a friend as well as one of the most successful erotic photographers in the world. Both Holly and Jenna Haze vouched for Bree, saying she was responsible, cool, and she wouldn't steal shit from my house while we were shooting. And she didn't. Bree was quiet, but extremely professional. She knew all her lines perfectly and performed amazingly well. I think I only gave her direction on one or two things during the whole shoot. I love her response to Pete (the cameraman) asking her if she's Jewish, as well as the look on her face when Sean pulls over to drop her off.

– Marie Luv is the other porn star in the episode. She was a delight on set, and fantastically funny as the bored slut at the end. Overall, I've been really shocked by the acting ability of all of the porn stars we've worked with, and am starting to think any sort of acting training at all is absolute bullshit (I'm kidding of course, but I do think porn stars have become comfortable in front of cameras, which allows them to be fairly relaxed while performing in comedy). Marie was referred to me through my good friends, Belladonna and my her husband Aiden Kelly. She also did not steal anything from my house (but she did warn me off a porn star who I was considering using in an upcoming episode who might.)

– Many of you recognized Sarah Agor, the other bored slut at the end, who was one of the contestants in the VH1 reality show I judged, SCREAM QUEENS. We hit it off on the show, and it was fun being able to work with her again.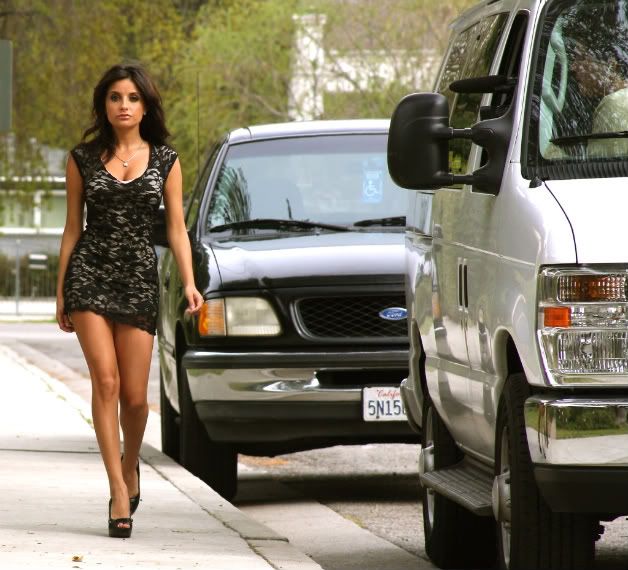 – Then there's Mikaela Hoover, my pal, and the star of my XBOX short, SPARKY & MIKAELA. Mikaela also acted in my pilot for THE TERRA NAOMI show, and I consider her a part of the Good Boy troupe of regulars, along with my brother Sean, Stevie Blackehart, Joe Fria, Ben Simonetti, Belladonna, etc.

– The older woman was played by an octogenarian by the name of Lylah Wood. We found Lylah through a casting call on an Internet casting site, as I didn't know any old ladies who are big fans of non-sexual pornography (although I'm sure you're out there!) Lylah was a wonderfully vibrant woman, who was a blast on set. She and her husband had decided in their retirement to take up acting. Although Lylah had been acting for exactly six weeks when we booked her, she had already booked FIVE OTHER JOBS. She's that good. Also, I think she might have hooked up with Craig in my upstairs bathroom, but I'm not sure.

– This was the first episode produced by Iris Ichishita, who will also be producing our next episode (HIGH POON with Alan Tudyk, Belladonna, and Loveline's Stryker), as well as the episode after that, and, hopefully, the rest of the series.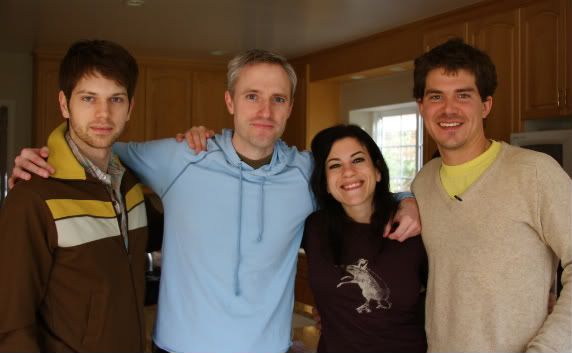 Behind the Scenes filmmaker Nick Holmes, co-creator Brian Gunn, Von Spears wrangler Terra Naomi, and Pete!!! Alton.
– As with all of the episodes, the score was composed by Tyler Bates, who most recently scored THE WATCHMEN.
The majority of the HELPFUL BUS crew – thanks, you guys!!
And remember to watch HELPFUL BUS again and RATE and COMMENT on the episode HERE!
© 2009, James Gunn. All rights reserved.