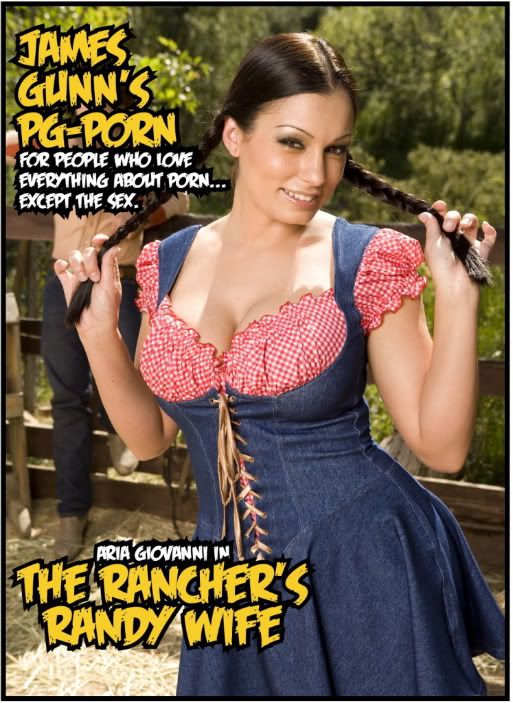 Ah yes, PG PORN's first foray into an entire new medium! I see the world in front of us: PG PORN novels and films, children's pajamas and bed sheets, action figures and bobbleheads, the works!
A few months ago Femme Fatales magazine contacted us about doing a photo spread, in the style of old 1970's adult photo comics — without the sex, of course! We shot three photo comics, including this first one, THE RANCHER'S RANDY WIFE, starring Aria Giovanni. However, Femme Fatales magazine became mired in a switchover of publishers; the issue with the photo comics was finished but never printed and may never see the light of day.
Fortunately for us, we now have this first PG PORN PHOTO COMIC exclusively on JamesGunn.com! You can check it out HERE.

The stuff was Photographed by the amazing HOLLY RANDALL, it was Produced by PAUL ZIMMERMAN and FEMME FATALES MAGAZINE, and it stars ARIA GIOVANNI as the Rancher's Wife, PETE ALTON as the Randy Ranch Hand, and STEPHEN BLACKEHART as the Rancher. I thought this was a fun chance to give our cinematographer/editor Pete and our producer Stevie a chance to be in front of the camera. The wardrobe is by MARY MATTHEWS.

We shot everything up at the beautiful mountain ranch of Suze Randall (Holly's mom, and one of the most important erotic photographer ever). I asked Holly what she could tell me about photographing naked women that I didn't already know. She told me I probably didn't know about the flies.
What flies? I asked her.
She told me that when you shoot nude women outdoors the flies are remarkably attracted to their vaginas. They're constantly having to shoo flies away from between their legs. It's not uncommon for seven or eight flies to be gathered down there, just hanging out. It's a constant hassle.

She was right, I told her. I didn't know that.
Anyway, as I said, we shot two more photo comics: those starred Charlie Laine, Tiffany Shepis, Mia Rose, my brother Sean, and myself, and there was nary a fly in sight. Hopefully the other comics will see the light of day soon, and hopefully it will be here on JamesGunn.com. So check back often!

James
MEANWHILE,

If you GO REGISTER NOW to be a part of JamesGunn.com, you will be eligible to win a FREE SLiTHER SCRIPT signed by Nathan Fillion, Elizabeth Banks, Michael Rooker, Jenna Fischer, Gregg Henry, Tania Saulnier, and myself. We will pick from ALL registered members at random in the near future. If you're already registered, you are already eligible.
Befriend me on Facebook or Twitter.
Watch PG PORN: HELPFUL BUS again HERE.
© 2009, James Gunn. All rights reserved.