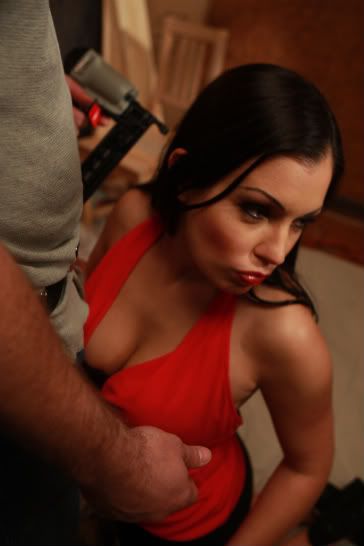 I get a lot of emails asking me about how many episodes of PG PORN there are, where they are, and how to get to them. There was some confusion, because some episodes were never shown on Spike, and another was removed from Spike almost immediately. So, in preparation for the upcoming episode of PG PORN: HIGH POON, this Tuesday, April 28, starring Alan Tudyk and Belladonna, I thought I'd present all the videos in one damn place, in the order they were originally presented.
NAILING YOUR WIFE, starring Aria Giovanni and Nathan Fillion

This was our pilot episode of sorts. However, it wasn't the first episode we shot — it was actually the third. The first episode we shot was ROADSIDE ASS-SISTANCE, which we released fourth. And the second episode we shot was GENITAL HOSPITAL, which we're saving for the iTunes 6-pack, hi-def, loads of outtakes, no-hold-barred release in a couple months. But we thought this episode would start the series off with a bang (or a 'thwikt!' as the case may be). We gave the episode to Spike.com for a very small fee, and got paid per hit. They told us a "home run" would be 400,000 hits. Today we stand at 2.2 million. It cost a little over a thousand dollars to produce. This was the first episode written by Brian Gunn. He also wrote the upcoming HIGH POON.

PEANUS, starring Belladonna and Michael Rosenbaum, featuring Lee Kirk, Tiffany Shepis, Sean Gunn, Mackenzie Firgens, Stephen Blackheart, James Gunn, Elisa Eliot, and Dr. Wesley Von Spears

This was the first of two PEANUS episodes that we shot in two or three days (I can't remember which) at my brother Sean's house (which was the same location for NAILING YOUR WIFE). These episodes cost a bit more money than the first three we shot, because of the wigs (by E.R.'s K.J. Dolvik) and the costumes (by our resident wardrobe designer, Mary Matthews, who has done all the episodes). This episode was initially released on IGN, mostly for legal reasons — even though the episode is obvious parody, we didn't want to risk getting sued by the estate of a certain cartoonist and blowing our whole Spike deal. In all honestly, it's not my favorite episode, and think it works mostly to set up the next one.

A VERY PEANUS CHRISTMAS, starring Belladonna, Michael Rosenbaum, Lee Kirk, Tiffany Shepis, Sean Gunn, Mackenzie Firgens, Stephen Blackheart, James Gunn, Elisa Eliot, and Dr. Wesley Von Spears

This is the episode people either love or hate. Personally, it's one of my very favorites. It was also released on IGN as a "promotional episode" to avoid litigation.
ROADSIDE ASS-SISTANCE, starring Sasha Grey and James Gunn

As I said earlier, this was actually the first episode of PG PORN we shot. The first time I saw it I actually considered never showing it I hated it so much – this isn't so unusual, as I often hate the first cut of things I've directed. As it stands, we're at 1.2 million hits, but it's had the best legs of all the episodes.

SQUEAL HAPPY WHORES, starring Jenna Haze and Joe Fria

This was our ultra-foulmouthed musical episode, that got taken down from Spike after two days because they were afraid it would be offensive to someone or other, even though no one complained. It received the best reviews of any episode, though certainly the fewest amount of people have seen it. Digg also considered it too much for their site and took it down. Whatever the case, it was and continues to be my favorite of all the PG PORN episodes. The songs were written by Terra Naomi and myself.

HELPFUL BUS, starring Bree Olson, Craig Robinson, Sean Gunn, Marie Luv, Sarah Agor, Stephen Blackehart, and Mikaela Hoover
This is the third episode that debuted (and stayed) on Spike. It's based on the very popular BANG BUS porno series, where guys pick up girls on the street, have sex with them in a 'bus' (actually a large van), and then kick them out and drive away, the whole time pretending it's real. It is the ultimate, altruistic, family-oriented porn, and the episode in the series that stays the closest to actually being "PG".
Like many of these others, PG PORN: HIGH POON will be available this Tuesday exclusively on Spike.com/pgporn.
I'll answer any of your PG PORN questions in the comments below, or on the message board. You can see behind-the-scenes stuff and outtakes in the VIDEOS section of this site.

Non-sexually yet pornographically yours,
James
Just a couple days left for you to REGISTER to be a part of JamesGunn.com, so you'll be eligible to win a FREE SLiTHER SCRIPT signed by Nathan Fillion, Elizabeth Banks, Michael Rooker, Jenna Fischer, Gregg Henry, Tania Saulnier, and myself. We will pick from ALL registered members at random in just a few days. If you're already registered, you are already eligible.
Befriend me on Facebook or Twitter.

© 2009, James Gunn. All rights reserved.