Firstly, thanks for supporting PG PORN: HIGH POON over the past couple days. We're doing great. You can still see the episode HERE!
MY FAVORITE PG PORN BEHIND-THE-SCENES FUN FACT EVER

The first scene in High Poon was all shot in one very long take. It started with me complaining about the botched line, through me bitching about Alan's accent, and ended with me screaming at my friend, Rob Danson, the "guy who looks at the camera." What we have in the episode is just a small snippet of me screaming at him. In reality, I went on for a long time, calling him "an ugly junkie motherfucker", telling him "this wasn't a fucking Woody Allen movie", and ending with me physically pushing him off the seat, telling him I was going to kick his ass and for him to get the hell out.

But here's the funny part: Both Roxy DeVille and our stills photographer showed up on set a little later, as we were about to shoot this take. They had no idea I was anything other than the actual director. From the first time I said, "Cut!" they thought the scene was real, and didn't know my dialogue was scripted. They both thought I was the biggest asshole they'd ever seen, who was yelling at one actor about his accent, and then physically abusing an extra. I didn't discover this until a couple of hours later, and it was one of the greatest moments of my life!


THE STARS!

BELLADONNA has been in more PG PORN episodes than any other actor besides my brother Sean. She starred in the unaired Genital Hospital, the two Peanus episodes, and now High Poon. She's become a good friend, a talented comedic actress, and delight to work with.

I've known ALAN TUDYK for a few years now – we've hung out at quite a few barbecues at Nathan Fillion's house, as well as some Sunday night wine and cheese gatherings at my brother Sean's. I've always wanted to work with him, both because he's one of my favorite dudes around, and because he's an incredibly talented actor. We've planned on working together on a PG PORN almost since the series inception, but things never worked out until a few weeks ago when we shot High Poon. Because of the sobbing sequence in the short, I don't think there's too many actors besides Alan who could have done the episode justice.

I've also known TED STRYKER for a while, as he was the co-host on the radio show Loveline with Dr. Drew, a show on which I've guested a couple times. I like Stryker a lot, and I never even knew he had a first name until we shot the episode – I thought he was like Cher or Madonna. Stryker was completely hilarious on set, and the crew (and me) ruined a lot of takes laughing at him. Although he only had one line in the script, he did a lot of improv. That will be seen in the fun, very long "director's cut" that will be available this summer on iTunes.

I met ROXY DEVILLE at the AEE show in Vegas this year, and thought she was a complete hoot. However, I had no plans for her to act in this episode. She showed up with her boyfriend, Stryker, just to hang out, and I knew I needed to take advantage of it. So we threw her in some bar ho threads and had her dance in front of a jukebox. At PG PORN, we don't let any opportunity pass us by. It was so much fun working with Roxy, that she will have a bigger role, if everything goes as planned, in the upcoming science fiction PG Porn episode, The Vaginatrix.

AND MORE FUN FACTS


– This episode was co-directed by longtime PG PORN cinematographer and editor, Pete Alton. It was a lot of fun working with Pete and the reason the shots look so great at the beginning is 100% due to him.
– The crotch and crotch-grab featured in the High Poon title shot was actually not Alan Tudyk's. While Alan was in makeup, having his Ken Doll appliance applied, we threw my brother Brian in Alan's pants and had him do it. This was in part because Brian is slim like Alan, and in part because Brian is famous for having the largest schlong of all the Gunn boys.

– Brian, who co-created PG Porn with me and my brother Sean, and also wrote this episode, also plays the script supervisor in this episode – he's the serious guy with glasses sitting next to me taking notes. His role will also be bigger in the iTunes extended cut.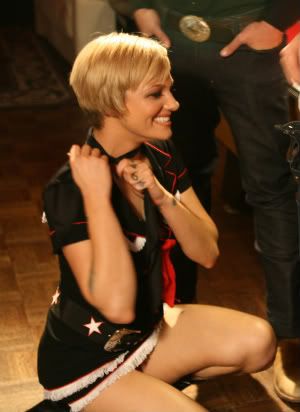 – Far more takes were ruined from laughing on this PG PORN than any other – in fact more takes were ruined than all of the other episodes combined. Much of this was due to Ted Stryker, who said some hilarious improv lines that made the rest of us bust out, but also because Stryker couldn't stop laughing at Alan Tudyk's ridiculous Cookie Monster/Corky from Life Goes On accent. (You can actually see him starting to break in the shots that made it).

– Although most of the dialogue and events were scripted, a few moments were complete improv. All of the stuff with Alan's ridiculous accent and the "rounder vowels" wasn't in the script, nor was the Corky stuff. And the backstory with Alan's child dying of leukemia was always there, but the lines about "chronic lymphoma" and "whatever kind of leukemia kills him the most, that's the type he has." The Christian Bale stuff at the end about smashing the lights was also added on set, as the script was written before Bale's tantrum occurred.

– Due to the cost of the bar rental, and the cost of the prosthetic, this was the most expensive episode of PG PORN yet (but still only a few thousand bucks).

– Because I yelled so much at the crew on this, I started to feel bad. Essentially, I would just start improv yelling at random crew members, unsure whether they were okay with it or not. So, at the end, when I'm yelling at the "guy with the goatee", I'm actually just screaming at a spot on the wall.
– The Ken Doll genitalia was created by my pal Vincent Guastini, who also did the effects work for Humanzee and Sparky and Mikaela. Vincent also played the guy who draws the Sharpie penis on the appliance at the end of the short.
– Working with cats is a pain in the ass. You can see the cat creeping out behind Alan in the shot before I notice it, but it doesn't work perfectly, because it kind of just seems like the cat "appears" out of nowhere.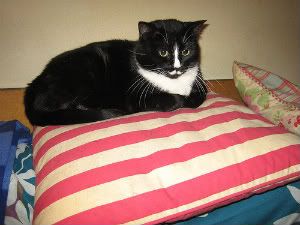 – That said, the cat, whose name was May, was a real sweetie. She was being fostered by our electric Melissa and our gaffer Jeremy. And guess what? She really needs a home. Melissa and Jeremy would love to keep her, but she's a little shy around other cats and their other cats pick on her and beat her up daily. She's four years old, she lives in LA, and she likes playing with pipe cleaners and kneading fleece blankets. And, as I said, not only is she Alan Tudyk and Belladonna's co-star, she's an enormously cute and lovable cat. If you're interested in adopting her you can email Melissa at [email protected]. Please someone do it!!
Be sure to watch PG PORN: HIGH POON one more time again HERE and please help out by pressing DIGG below the video and sharing the link with all your friends on Twitter, Facebook, MySpace, and by email. We need your help to make sure people see the episode. THANKS!

James
Just a little over a day left for you to REGISTER to be a part of JamesGunn.com, so you'll be eligible to win a FREE SLiTHER SCRIPT signed by Nathan Fillion, Elizabeth Banks, Michael Rooker, Jenna Fischer, Gregg Henry, Tania Saulnier, and myself. Tomorrow night, Thursday, we will pick from ALL registered members at random. If you're already registered, you are already eligible. The winner will be announced Friday morning here.

Befriend me on Facebook or Twitter.

© 2009, James Gunn. All rights reserved.