First you nominated a hundred or so songs, and then you voted on your least favorites from that list. These are the results of hundreds of votes here at JamesGunn.com, on Twitter, Facebook, and MySpace. According to you, these are THE 20 WORST FUCKING SONGS OF ALL TIME:
1. Barbie Girl – Aqua
The clear winner. I'll be honest – I had never heard this song before yesterday (I'm not a big mainstream pop radio guy). That said, I'll agree it's awful. And I'm extremely happy Amy Adams went on to an acting career – she's much better at that.
2. Achy Breaky Heart – Billy Ray Cyrus
No surprises here: The mulleted one battled it out all day with Toby Keith, and ended out on top.
3. Courtesy of the Red, White, and Blue (The Angry American) – Toby Keith
What are you people? A bunch of bleeding heart commies?! The fact that you voted this song so high means you support terrorism. You really ought to look at that.

4. My Humps – The Black Eyed Peas
5. Fergalicious – Fergie
Fergie pulls off a ground rule double with the number 4 AND 5 slots. BTW, for my money, Fergalicious is light years worse than My Humps.
6. Who Let the Dogs Out – Baha Men
Weird. I just learned this song has a verse – and, holy shit, it makes the song even worse!
7. We Built This City – Starship
Probably called "the Worst Song of All Time" more than any other, including topping Blender's list a couple of years ago. It's probably my second least favorite on this list.
8. Higher – Creed
Boy, people really hate Creed – they're the only artist besides Fergie to make this list twice! Sure, I hate this completely hypocritical phony cheese-rock, but the 8th-worst-song-ever? I'm not so sure.
9. Christmas Shoes – New Song
Another song I had never heard before. Thank you for turning me onto it. And thank you in advance for turning me onto being anally raped with a weed-whacker too.
10. The Superbowl Shuffle – The Chicago Bears Shufflin' Crew
This was my own nomination, and my least favorite song on this list. I think its hit status had a especially bitter sting to those of us who were non-sports playing musically-inclined geeks. What, these dumb pieces of shit are having hit songs on top of everything else? And people are stupid enough to love it? Fuck all of you. Most of you know what I'm talking about.
11. Photograph – Nickelback
Nickelback: you poor, poor cunts.
12. Butterfly – Crazy Town
I was honestly hoping that this song wasn't going to make it, because I've watched Seth Binzer on Celebrity Rehab and think, Jesus, doesn't that motherfucker have enough problems without Googling himself and finding this shit? Sorry, dude. Maybe if you weren't on crack it wouldn't have sucked so bad. Also, on the bright side of things, you aren't nearly as grating in this video as that dude in the D.A.R.E. T-shirt who sings the chorus. You're honestly all like Seacrest next to his Dunkleman. I totally, totally, totally wish that dude were dying of a crack and heroin addiction instead of you.
13. Disco Duck – Rick Dees
Oh dear Lord in heaven. This song deserves to be a couple places higher for Dees' introduction at the beginning of this video alone. Not to mention that he's using a "duck voice" that is only a duck voice because it's a bad Donald Duck imitation. On the other hand, at least it's a song everyone can relate to about turning into a disco duck.
14. Cotton Eye Joe – Rednex
Ha ha ha! Another song I had never heard of. I like how he's basically rapping "Turkey in the Straw." And then it was a hit.
15. Lady in Red – Chris de Burgh
Maybe I'm just getting slap-happy from posting all these awful videos, but I found this one about the funniest yet. There's just something a little donkey-kicked-him-in-the-head about this guy. I despised this song as a kid (and "Don't Pay the Ferryman"), but I was surprised so many folks remembered it and hated it too.
16. PopoZao – K-Fed
I take it back. This one's the funniest, just for K-Fed's bliss at his own great work. And it made this list despite me misspelling the title in the nominations. K-Fed would probably FLIP if he found that out. He's fucking hardcore about spelling.
17. With Arms Wide Open – Creed
18. American Pie – Madonna
What's worse than a classic bad song? A really, REALLY terrible interpretation of a classic bad song.
19. Crank Dat – Soulja Boy
I don't want to see anyone brutally raped and murdered. That would be just awful. But if I was FORCED into choosing one person to be brutally raped and murdered, I might have to go with Soulja Boy. No, wait, Perry King. Then Soulja Boy second. I wish I had three.

20. Rico Suave – Gerardo
This choice bums me out a little, because I was about to adopt a sort of Gerardo-look as my own. Be honest with me: the song sucks, but the look is rad, right? Right? You can tell me the truth. But keep in mind I already bought a bunch of headkerchiefs and extensions. I mean, don't let that affect your opinion. But it's going to be a waste of money if I turn back now. Just saying.

The RUNNERS UP :
Afternoon Delight – Starland Vocal Band, Cherry Pie – Warrant, The Final Countdown – Europe, Hangin' Tough – The New Kids on the Block, Heartbeat – Don Johnson, I Will Always Love You – Whitney Houston, Jenny from the Block – J-Lo, Little Miss Can't Be Wrong – The Spin Doctors, Party All the Time – Eddie Murphy, Seasons in the Sun – Terry Jacks, Thong Song – Sisqo, Tub Thumping – Chumbawamba, What's Up – 4 Non-Blondes.
As for what I THINK belonged in the top 20 but didn't make it, well, you'll have to wait until tomorrow. But I promise you that my list is way fucking worse than this.
For all of you who voted and nominated songs – thanks for playing!
Until next time,
James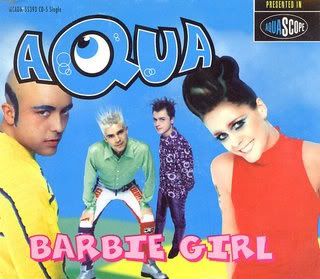 –
You can still download the Adam-Carolla-James-Gunn podcast for FREE on iTunes here:

Befriend James on Facebook or Twitter
And you can get your FREE MP3 of Terra Naomi's new, full band version of THE VICODIN SONG – the first song off her forthcoming album – right HERE.

REGISTER HERE to be a part of JamesGunn.com.
© 2009, James Gunn. All rights reserved.