Ah, Twitter…


I posted my first tweet a year ago, on June 2, 2008. That tweet, like so many others' first tweets, was simply of the "I'm trying to understand what the fuck Twitter is for" variety. Well, I found out what Twitter was for a couple hours later, when I posted "I just took a shit" – I realized I could share with the lot of you the most stupidly intimate and often disgusting details of my life, and that you actually seemed interested. Twitter is a love for the minute details of our lives, so unimportant in the overall scheme of things, but so incredibly important to each of us in the moments we're living them. It is perhaps unhealthy, but not altogether displeasing to someone like me, to whom nothing means anything unless it's written down and communicated.

So, thank you Twitter.

In celebration of my Twitterversary, I've gathered together a few of my favorite Tweets from the past year, a large portion of which have to do with my dog Von Spears, pooping, and Jesus Christ. Enjoy.

I just took a shit.
3:10 PM Jun 2nd, 2008 from txt

Don't know which movie is dumber, Zohan or Love Guru. It's plaguing me day and night. Just figured it out. Love Guru.
4:40 PM Jun 3rd, 2008 from web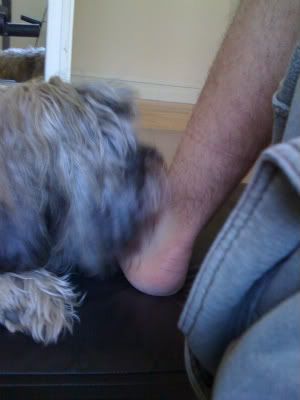 Von Spears is licking my feet while I do sit-ups.
11:06 AM Jun 6th, 2008 from txt

Guess what I'm doing. Wrong. Eating eggs.
10:25 AM Jun 9th, 2008 from txt

Laughter is the best medicine. That's why I laugh at people with AIDS.
11:46 AM Jun 10th, 2008 from txt

Twitter is the new Facebook is the new MySpace is the new having a fucking life.
2:23 PM Jun 10th, 2008 from web

Jesus, my face is almost exactly like an emoticon.
3:28 PM Jun 10th, 2008 from web

One of the fattest dudes I've ever seen is walking down the street towards me. Over 500 easy. More to love!
12:24 PM Jun 11th, 2008 from txt

Now passing sprinkles cupcakes and resisting the urge. Fatty helped.
12:26 PM Jun 11th, 2008 from txt

Nothing's worse than leaving a cup of day old coffee on my desk and accidentally drinking it instead of my new cup. Ok, genocide's worse.
11:14 AM Jun 12th, 2008 from web

Well, genocide's worse if it happens to ME.
11:16 AM Jun 12th, 2008 from web

I'm in pier 1 imports shopping and enjoying it. I had no idea I was gay!
3:48 PM Jun 16th, 2008 from txt

I just woke up half asleep and argued with the maid that it was Tues not Weds. Now back to bed.
7:50 AM Jun 18th, 2008 from txt

The maid is burning 8 sticks of incense at one time. My house smells like Buddha's taint.
10:59 AM Jun 18th, 2008 from txt

I don't feel like I've completed brushing my teeth until I gag brushing my tongue. So I get bulimics. You people are ok with me.
3:39 PM Jun 19th, 2008 from web

Just listened to YOU'RE SO VAIN and I DO think that song's about me. Except the faggy apricot scarf part.
6:23 PM Jun 19th, 2008 from txt

Going through my CD's. Why in the fuck do I have a HOOTIE AND THE BLOWFISH album? Where the hell did that come from?
12:55 PM Jun 23rd, 2008 from web

I burnt my tongue on an enchilada. Fucking Mexicans!
4:23 PM Jun 30th, 2008 from web

Just tried some pants on at Costume National so tight they outlined the wrinkles of my asshole.
2:16 PM Jul 1st, 2008 from txt

Fucking 3 hour layover in Dallas. Hanging in the Ambassador club. Great place to take a shit!
4:40 PM Jul 3rd, 2008 from txt

At the Columbus Zoo. The dumb procreate profusely.
9:29 AM Jul 6th, 2008 from txt

Why would you bring a blind person to the zoo? I have a feeling this chick would rather just stay home and listen to audiobooks.
9:54 AM Jul 6th, 2008 from txt

Have you ever worn a pair of pants from the floor and taken then off at the end of the day to have a dirty sock fall out of your butt?
6:00 PM Jul 16th, 2008 from web

I'm going in for a physical for the TV project at 4. Hope the Dr. doesn't find the small tool box and 98 jeweler's saws I shoved up my ass.
3:05 PM Jul 21st, 2008 from web

I swallowed a bug doing an interview with Aintitcool. Afterwards, I vomited that fucker up.
2:53 PM Jul 26th, 2008 from txt

Just watched one guy smash another guy's car with a metal sign outside a liquor store. These dudes are alive!
3:35 PM Aug 7th, 2008 from TwitterBerry

Thinking of getting a sleeve tattoo on my right forearm of pretty colorful balloons floating up through a bright blue sky and fluffy clouds.
11:41 AM Aug 8th, 2008 from web

I need a bassist for my band. Our band plays only bass solos.
12:49 PM Aug 8th, 2008 from web

I have no idea what day it is. Got it narrowed down to Friday or Saturday.
11:15 AM Aug 9th, 2008 from TwitterBerry

Thought there was a cricket on the last song I listened to. But he's on this song too. The fucker must be in the room with me.
12:39 PM Aug 10th, 2008 from TwitterBerry

Conversing with Rooker. Things he loves- lactating breasts, foot jobs, and being whipped with long, hot oiled hair. For reals.
10:40 PM Aug 10th, 2008 from TwitterBerry

Couldn't find Von Spears. Why? He jumped out the front window and was checking shit out in the front yard. You little fucker.
2:10 AM Aug 13th, 2008 from web

Just got a text from Jenna that a rat is eating from her birdfeeder. She named him Tim.
1:31 PM Aug 23rd, 2008 from web

Poise – a drug to mellow out your dog on a daily basis. Fucked-up. That said, I definitely would have tried that shit out when I was 15.
2:51 PM Aug 26th, 2008 from web

Fantasy Football = Dungeons & Dragons
10:40 AM Aug 27th, 2008 from web

Big fan of Echo. Not so much of the Bunnymen.
12:34 PM Aug 27th, 2008 from Twittelator

On sex with an alien: no matter how hot she is, stick a finger in 1st, just to make sure there's no tiny lawnmower in there or whatever.
10:50 AM Aug 30th, 2008 from web

And use a pinky, since that's the most dispensable.
10:50 AM Aug 30th, 2008 from web

These pants make me look like I have a vagina.
3:27 PM Aug 30th, 2008 from web

I don't think New Kids on the Block are as good since they kicked out Lance Bass for being gay.
1:52 PM Sep 4th, 2008 from web

Sean has been staying at my pad a few days and Von Spears has been sleeping with him at night. Traitor. Guess I'll put him to sleep.
10:18 AM Sep 9th, 2008 from Twittelator

Just got a cool MySpace message from a lobster boy. He's got claws for hands- it's like a superpower, only it's a disability.
11:15 AM Sep 9th, 2008 from web

A single purple grape has fallen into my big clean white sink. I find it aesthetically pleasing, so I'm going to leave it there.
11:44 AM Sep 13th, 2008 from web

At sushi with @terranaomi & @senglebardt & @Ezra802 – all of whom would need more money than me to eat juiced rat.
9:37 PM Sep 15th, 2008 from Twittelator

Once when we were kids my brother Brian squished gum into my hair so I took a shit in a Dixie cup and chased him around the house with it.
11:17 AM Sep 16th, 2008 from web

Taking work break with Von Spears at the dog park. If one of these people wanted to juice him I'd be furious. Unless they paid me 250 bucks.
7:44 PM Sep 16th, 2008 from Twittelator

Jesus is a lot like the Grateful Dead. Both are cool, but the people that are most heavily into them are pretty fucking lame.
9:35 AM Sep 19th, 2008 from web

New York City, ah, yes, my old lover. My old lover who smells like shit.
3:52 PM Sep 20th, 2008 from twitterrific

Pakistani guy at bodega said "Tom Cruise, Julia Roberts, and, what's his name? The gay — Brad Pitt" are not so popular where he's from.
6:58 PM Sep 21st, 2008 from web

Guy in park said he wanted to wipe his ass with my REAL TIME WITH BILL MAHER shirt. Then I told him my bro wrote for the show…
3:19 PM Sep 26th, 2008 from web

I told him I liked my shirt, but I wouldn't mind if he used my brother to wipe his ass.
3:17 PM Sep 26th, 2008 from web

Von Spears has fleas, and he's calling them his "posse"!
12:08 PM Oct 13th, 2008 from web

Work out! Work out! Turn all the BBQ potato chips and cream cheese I ate last night into MUSCLE!
9:48 AM Oct 23rd, 2008 from web

Going to online traffic school. Because, as Nathaniel Hawthorne said, I can't drive 55! Or was that Sammy Hagar? I get those 2 confused.
11:24 AM Oct 23rd, 2008 from web

Some drug terms I'm learning from online traffic school – goey (amphetamines), disco biscuits (ecstasy), c (cocaine), hammer (heroin).
2:30 PM Oct 23rd, 2008 from web

Just finished online traffic school. Makes me want to go street racing in school zones while amped up on disco biscuits and goeys.
5:09 PM Oct 23rd, 2008 from web

Von Spears threw a toy at me while I was on the toilet. After I pulled up my pants I was unhappy to find a squeaky pig in my butt.
6:10 PM Oct 26th, 2008 from web

Drunk with power.
2:50 PM Oct 29th, 2008 from web

So Von Spears had a bunch of sticky gunk in the fur on his head and I couldn't figure out what the hell it was…
11:47 AM Nov 9th, 2008 from web

Then I realized a squishy persimmon must have fallen from the tree in the backyard and splattered on his head!
11:48 AM Nov 9th, 2008 from web

Follow your bliss… unless your bliss is rape. Then, you know, think twice about it.
2:08 PM Nov 9th, 2008 from web

Advice: Just because your name can fit in a phrase, doesn't make it nickname worthy, i.e. my new MySpace friend, "Steph Infection."
11:35 AM Nov 12th, 2008 from web

I just sent my dad photos of Sparky, our raccoon puppet, and he responded with "Cute dog."
9:27 AM Nov 20th, 2008 from web

I've lost one follower of the tweets since using the phrase "mouth-rape Mickey Mouse."
9:02 PM Nov 21st, 2008 from web

My front lawn is completely stained with blood from last week's shoot.
10:40 AM Nov 22nd, 2008 from web

Just in search of that one simple, perfect Tweet that will blow your minds and change your lives forever.
10:58 AM Nov 26th, 2008 from twitterrific

Doing porn star research online in the hopes of casting our future episodes of PG PORN. Just like the Pilgrims oh so many years ago.
10:42 AM Nov 27th, 2008 from web

Eating a tuna fish sandwich in an LA mall staring longingly at Mrs Fields cookies. This has been a rotten fucking day.
6:33 PM Dec 4th, 2008 from twitterrific

Mrs Fields cookie now in stomach. Fuck it. I'll get fat as my revenge on humanity. You fuckers will have to look at obscenely obese James.
6:46 PM Dec 4th, 2008 from twitterrific

I am going to gross your shit out with my own self.
6:48 PM Dec 4th, 2008 from twitterrific

Congrats to Adam Green and Rileah Vanderbilt on their engagement!
10:36 AM Dec 5th, 2008 from Ping.fm

Note about the above Tweet: My friend Adam Green (the director of Hatchet) and I had been sharing messages about something or other, and he sent me a message saying he and Rileah had just gotten engaged. I mistakenly thought it was a mass email, not a private message to me (which it was). I posted this on Ping, which put it out on Twitter, MySpace, and Facebook – about 50,000 people. Unfortunately, many of Adam and Rileah's closest friends and family members didn't know yet – they found out from me!!

Lunchtime topics: long fluffy burnout hair and putting a metal armature in Von Spears and doing stop motion animation with him.
2:05 PM Dec 8th, 2008 from twitterrific

Tila Tequila (with Saran Tomlinson's) Top 5 Fantasy hookups: 1) Anne Boleyn, 2) Batman, 3) the Hulk, 4) Wonder Woman, 5) Cleopatra.
4:37 PM Dec 11th, 2008 from web

I'll add these 4 her: 6) Jesus Christ, 7) a Martian, 8) John Homa, 9) Skeletor, 10) Anne Frank.
4:39 PM Dec 11th, 2008 from web

@RyanRotten as a joke I'm going to walk up to you during the interview, say 'I have your lunch right here' and then come on your face.
11:41 AM Dec 12th, 2008 from twitterrific in reply to RyanRotten

Phillip Seymour Hoffman is fucking amazing. But would I take his talent if it came with all that fat? Not sure. Presently pondering…
8:43 PM Dec 13th, 2008 from web

SDG is making us Good Boys look bad with their animated logo. We need to get something going. How about a child getting shot in the head?
12:09 PM Dec 15th, 2008 from web

No, that would be in poor taste. I wish we could animate someone dying of cancer as our logo. Guess we could, but it would be LOOOONG.
12:09 PM Dec 15th, 2008 from web

Editing footage of the Michael Rosenbaum interview. Why is Rosey giving me bedroom eyes during this whole interview? Creepy.
6:49 PM Dec 15th, 2008 from web

You know what might help Kenneth Branagh direct THOR better? Lips.
1:55 PM Dec 18th, 2008 from web

Back home from the annual Gunn family dinner. Too bad I got stuck sitting next to Matt.
12:31 AM Dec 21st, 2008 from web

There are two little itchy bumps on my hand. I hope it's not SARS!!!!!!!
10:17 AM Dec 24th, 2008 from web

Jesus just gave me an excellent b.m. for Christmas. Much love to all your families on this stormy Christmas day.
12:18 PM Dec 25th, 2008 from twitterrific

Going for a walk. It's incredibly windy, so I'm going to fly Von Spears on his leash like a kite.
11:18 AM Dec 26th, 2008 from web

Elizabeth Banks thought she saw me beside the street yesterday, pulled over and rolled down her window to say hi – and it was Gary Oldman!
1:08 PM Dec 29th, 2008 from twitterrific

One thing I've learned about asexuals over the years — they're gay.
4:05 PM Jan 8th from web

At vet with Von Spears who ate a whole pack of @bubbleyum.
10:06 AM Jan 9th from twitterrific

Trying to figure out the most disgusting feature of Vegas: these tranny-riffic Rita Rudner billboards or all the Ed Hardy clothing.
4:28 PM Jan 10th from twitterrific

Learned my new name in Vegas: Scream Queens, as in, "Hey Scream Queens!", "Yo Scream Queens, what's up, man?" & "Dude, r YOU Scream Queens?"
1:00 PM Jan 11th from web

In restaurant. Cut lip on baguette and it won't stop fucking bleeding! @terranaomi better pray I ain't got the HIV!
2:55 PM Jan 11th from twitterrific

Von Spears and I are about to do a Marvel Team-Up and walk around the block together.
10:45 AM Jan 13th from web

If Anne Frank had an iPhone, she probably would have posted some of the greatest Tweets ever from the Achterhuis.
4:05 PM Jan 14th from web

Of course, she would've needed to be careful- if a Nazi started following her, he might figure out her locale through subtle things she said
4:07 PM Jan 14th from web

And she definitely would have needed to turn off that location-finding thing!
4:08 PM Jan 14th from web

Come to think of it, it's probably good she had a diary and not an iPhone, even though we have to read whole looooong paragraphs and shit.
4:08 PM Jan 14th from web

You know what else would be better as a series of Tweets? The Bible.
4:15 PM Jan 14th from web

If Jesus had been a little more thoughtful, he would have made himself born NOW as opposed to the year 0.
4:16 PM Jan 14th from web

In that way, His teachings could be communicated to us in a series of easily-digestible Tweets as opposed to all the "Thou art" mumbo jumbo.
4:18 PM Jan 14th from web

New Question: Who would win in a fight between Jesus, the Creature from the Black Lagoon, and Aquaman? It takes place in a swamp. Go!
1:54 PM Jan 15th from web

No team-ups, everybody, so quit saying Aquaman could control the Creature. Come on. Show some fucking class.
2:03 PM Jan 15th from web

Number of fans lost since forcing Jesus & Aquaman & the Creature to fight: 2. Oh, those touchy Aquaman fans!
2:09 PM Jan 15th from web

Real quote from @johncabrera: "You can always tell a real Megatron from a couple of things." then he gave us all a very boring robot class.
9:39 PM Jan 17th from twitterrific

I'm surprised there's so much hoopla around Obama becoming president, considering Elizabeth Banks joined MySpace yesterday.
12:58 PM Jan 20th from web

@cosimo179 I'd probably do @Johncabrera in the butt for 7 million $, but I'd make him wear a Penelope Cruz mask on the back of his head.
12:35 PM Jan 21st from web in reply to cosimo179

If a bad toupee was a car it'd be a PT Cruiser.
4:51 PM Jan 22nd from twitterrific

Just embarrassed myself by calling the Gugghenheim Museum the Guttenberg Museum. Yes, I wish Steve Guttenberg had a museum, but still…
12:08 PM Jan 26th from web

Watching Planet Earth. Pandas incredible cuteness is slightly diminished by the fact that their asses are covered in shit.
11:19 PM Feb 13th from web

BTW, @rainnwilson, I miss you and love you. I wish we were both gay so that we could boof. That is one of the great tragedies of my life.
2:36 PM Feb 18th from web

The best thing about being raped is when you're done being raped it's like, "Whew, this feels great, not being raped!"
12:42 PM Feb 22nd from web

And you just appreciate your everyday life, walking around, not being raped, a lot more.
12:42 PM Feb 22nd from web

Watching Sophia Loren and Nicole Kidman having a tranny contest.
9:40 PM Feb 22nd from Twittelator

I was just checking Twitter and, as I did, a bird shit on my iPhone. 100% true.
11:55 AM Mar 1st from Twittelator

I'm hoping this blind dude goes through on American Idol because I can't wait to see him do more dance routines.
9:14 PM Mar 4th from Twittelator

Surprising nutritional fact: Bagels have more calories than donuts. Get healthy! Eat a donut!
11:54 AM Mar 9th from web

I love when black comedians imitate white people, but I love when white people imitate black comedians imitating white people even more.
4:22 PM Mar 21st from web

I am going to start using that black-comedian-does-a-white-voice as my voice I use all the time.
4:24 PM Mar 21st from web

My mom is telling my brother Matt, @michellemg, and me about how my brothers and I all had ass-worms as kids.
11:02 PM Mar 21st from Twittelator

Time to poop.
11:19 AM Mar 24th from web

My gym smells like baby poop. I hope Von Spears didn't hide a little turd in here.
4:15 PM Mar 26th from Twittelator

When Popeye joined the XMen, @steveagee, it really sucked because he is so NOT a mutant. I liked him better with the Avengers.
1:06 PM Mar 27th from web

I want to remake the Godfather with the Jonas brothers as Michael, Fredo, and Sonny Corleone. It'll be RAD-TASTIC!
4:42 PM Mar 30th from web

Vito Corleone will be played by Matthew Perry.
4:54 PM Mar 30th from web

Twitter definitely ruins April Fools day, as I had thirty lies before 8 am this morning. Next, Twitter will shit on the Easter Bunny.
10:09 AM Apr 1st from web

Telling @narcissusholmes the humiliating story of how I spent a whole night 10 years ago coming onto Portia DeRossi- massive fail.
4:08 PM Apr 2nd from Twittelator

RT @steveagee dear guy in waiting room for voice over audition, STOP READING YOUR SCRIPT OUTLOUD!!! -message received, Mr. Passive-Aggressive
9:45 PM Apr 3rd from Twittelator

I am going to start posting false ReTweets of my friends. Here we go:
4:45 PM Apr 4th from web

RT @seangunn I love it when a fat crackwhore takes my ass with a fourteen inch dildo.
4:46 PM Apr 4th from web

RT @blackehart I remember my first NAMBLA meeting. It was the first time I felt ok being who I am. Some of those guys are still my BFF's.
4:47 PM Apr 4th from web

RT @captsupermarket Stretching out my a-hole with a brand new butt plug. This thing is getting big!
7:29 PM Apr 4th from Twittelator

RT @johncabrera Made a photocopy of Sawyer's face from LOST and taped it on a blow-up doll. Now fucking it.
7:31 PM Apr 4th from Twittelator

One thumb up: an encouraging sign of affirmation. Two thumbs up: you're pretending to be Fonzie. Don't Fonzie me, dude.
6:37 PM Apr 7th from Twittelator

In gratitude toward the Naomis for inviting me into their home for Passover, I shared one of MY family's traditions: the sign of the cross.
7:52 AM Apr 9th from web

They resisted doing it before the Second Cup, but I insisted.
7:53 AM Apr 9th from web

Yes!!! Finally, yo!! Holy Saturday, my favorite holiday of the YEAR!!!! Motherfuckin' PARTYYYYYYY!!!!!!!!!
7:54 AM Apr 11th from Twittelator

Today I'm thinking of remaking The Muppet Movie – only with humans instead of Muppets! Humans are WAY more expressive than Muppets!
8:22 AM Apr 18th from Twittelator

Emile Hirsch as Kermit.
8:49 AM Apr 18th from web

Is it weird to jerk off to that Susan Boyle video? Be honest with me.
10:37 AM Apr 19th from Twittelator

Waiting to get my hair cut. I feel a fake Re-Tweet binge coming on…
12:37 PM Apr 22nd from Twittelator

RT @seangunn I hope no one finds that dead whore stuffed under my sink. It's starting to smell in here.
12:39 PM Apr 22nd from Twittelator

RT @narcissusholmes Shit, @marcilee found my 40 gigs of gay bestiality videos. Now I'm going to have to kill her.
12:44 PM Apr 22nd from Twittelator

RT @terranaomi Ha ha! I just ran over to my friend while she was sleeping, jumped on her head and FARTED in her face!! ROTFLMAO!!!
12:46 PM Apr 22nd from Twittelator

Working out the details of going up to Skywalker Ranch. I'm gonna fuck C3PO.
2:08 PM Apr 22nd from Twittelator

Thinking about making FACE OFF 2 where Ashlee Simpson has her face replaced with a kinda cute chick… Fuck, reality plagiarized me again!!
10:44 AM Apr 23rd from web

Wow, my dog, @vonspears, signed up just to support the cause. He's in there tweeting away. I'm sure it's very clever stuff, like @sockington
9:38 AM Apr 24th from web

Note: Some Tweets from @VonSpears' Page:
0YSB HD8QWRY328YOUFN WP933 wudpo;wet p 53257u 25 food OI(PJ jnfkjnnv;; 0-80[484u; g-90235
9:44 AM Apr 24th from web

h WER;OIW
9:43 AM Apr 24th from web

O7R93RT TTKJJ twiut0t t0iut 09utt u97 hfAS;EOM'IPWRQFn c wdhjlkwu wur3q
9:40 AM Apr 24th from web

I would never be a serial killer. But if I was I would like to be called the Fancy Killer. And I'd wear a monocle.
6:50 PM Apr 26th from Twittelator

Showed @vonspears dogs in the park being trained. He gave me a look that said, "Here's my trick, bitch: free fuckin' will."
10:37 AM Apr 27th from Twittelator

Going to go on Loveline again in a couple weeks where I may again admit to the embarrassing fact that I am a male squirter.
5:01 PM Apr 28th from web

Shit, I'm going to be late for my lunch with Gregg Henry (who I watched as Val Resnick in PAYBACK last night.)
12:41 PM Apr 29th from web

"Sorry I'm late, Gregg. But, good excuse: I was tweeting." "About what?" "About being late."
1:14 PM Apr 29th from web

Nothing seems less fun to me than a kite. Okay, a colostomy bag fight. But, besides that, a kite.
11:26 AM May 2nd from web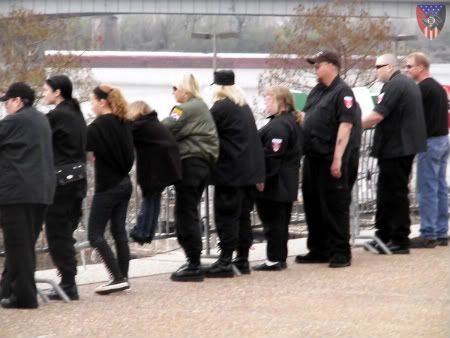 http://twitpic.com/4fkiz – Nazi gathering in St Louis proves Nazis are the kids too uncool to hang at San Diego Comicon.
2:19 PM May 2nd from TwitPic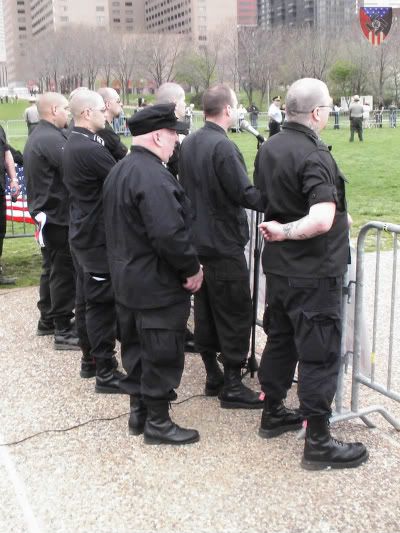 http://twitpic.com/4fkvz – First requirement for Nazi membership: Flabby ass.
2:23 PM May 2nd from TwitPic

RT @rainnwilson what Museum will Ben Stiller's character go next? – There will be some out-of-control shenanigans at the Holocaust Museum.
5:44 PM May 5th from Twittelator

Yesterday, a bird flew into my kitchen window and died. And that was sort of the best thing that happened all day.
7:52 AM May 8th from web

@vonspears favorite things: 1) Money, 2) Power, 3) Fame, 4) Squirrels
10:41 AM May 8th from web

I want to remake The Big Chill. Everything will be exactly the same, except one of the characters will be a disembodied head. Same script.
8:54 AM May 12th from Twittelator

Took @samenglebardt out for brunch today for his birthday. Afterward I hugged him goodbye & said "Merry Christmas!" Total accident.
5:58 PM May 17th from Twittelator

Thanks, @drdrew, for an incredible time on Loveline last night. I'm glad I could be there and lend a helping hand to that pedophile.
10:00 AM May 19th from Twittelator

No, by "that pedophile" I'm not referring to @drdrew, but to a dude who called in. Dr.Drew has a very nice, normal-aged wife.
10:13 AM May 19th from Twittelator

Some days I just feel like responding "Who gives a shit?" to every email I get.
8:51 AM May 22nd from web

Facebook friend request I just got: "Funny I stumbled across your profile, AT CLOSE RANGE was just on last week." – Ok, sure. Approved.
9:21 AM May 26th from web

A kid's party stormtrooper tried to pet @von_spears & freaked his shit out! Dude obviously didn't know VS was a jedi!!
12:20 PM May 30th from web

Last night I dreamt a zombie movie. I might write it.
9:48 AM May 31st from web

Last night's dinner: Canned octopus, cashew butter, and Soy Dream ice cream (separately). Depressingly delicious. Ah, bachelorhood.
about 24 hours ago from web
You can still download the Adam-Carolla-James-Gunn podcast for FREE on iTunes here:

Befriend James on Facebook or Twitter.
And you can get your FREE MP3 of Terra Naomi's new, full band version of THE VICODIN SONG – the first song off her forthcoming album – right HERE.

REGISTER HERE to be a part of JamesGunn.com.

© 2009, James Gunn. All rights reserved.