All right, so Night of 140 Tweets was just about the greatest fucking thing ever. It was 140 Tweeters in one place – the UCB Theater in Hollywood – each performing a single tweet, in a row, with great swiftness.  They would be filming the night, selling the footage on

Amazon

and iTunes, and all proceeds go to benefit Haiti.  Steve Agee and Paul Scheer asked me to do it a month or so ago, and I was like, sure.  I didn't know what it was going to be like, and I really didn't know who was going to be involved. But Steve's a friend and I'm an admirer of Scheer, so I said yes.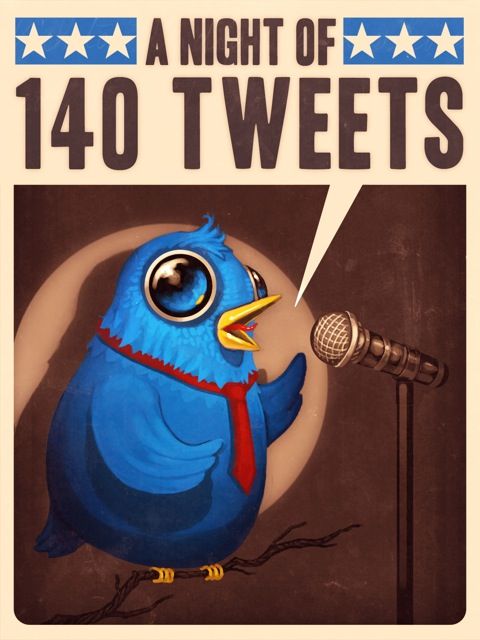 Before the night arrived, I had to decide what tweet I was going to share on stage.  So I made a list.  I posted them all on Twitter and asked my followers to vote on them.  These are the results of that poll, from least to most votes:
10) Today I'm thinking of remaking The Muppet Movie – only with humans instead of Muppets! Humans are WAY more expressive than Muppets!
9) RT @steveagee I remember my first NAMBLA meeting. It was the first time I felt ok being who I am. Some of those guys are still my BFF's.
8) Nothing seems less fun to me than a kite. Okay, a colostomy bag fight. But, besides that, a kite.
7) Just got a cool MySpace message from a lobster boy. He's got claws for hands- it's like a superpower, only it's a disability.
6) The best thing about being raped is when you're done being raped it's like, "Whew, this feels great, not being raped anymore!"
5) Burnt my tongue on an enchilada. Fucking Mexicans!
4) If Anne Frank had an iPhone, she probably would have posted some of the greatest Tweets ever from the Achterhuis.
3) Nothing's worse than leaving a cup of day old coffee on my desk and accidentally drinking it instead of my new cup. Ok, genocide's worse.
2) Laughter is the best medicine. That's why I laugh at people with AIDS.
1) Follow your bliss… unless your bliss is rape. Then, you know, think twice about it.
My girlfriend Mia is unfortunately out of town, so I took my friend/faux date Mikaela Hoover.  We arrived at the theater, and there was a huge line going down and around the block, even though I had heard the night was already sold out.  We snuck into the bookstore besides the theater, where we met up with my pals Chantal Claret, the lead singer of Morningwood, and Mindless Self Indulgence's front man Little Jimmy Urine (whom I call James).   Chantal has also been asked to be one of the 140 tweeters.
Chantal also wasn't sure what tweet she was going to use so while in the bookstore we tried our tweets out on each other.   I started leaning toward either number 6, the one about the best part of rape, or number 9, the fake retweet turning Steve Agee into a pedophile.  Although some of the others might be funnier to read, those seemed funnier when said aloud.
While still in the bookstore, I ran into my friend James Urbaniak, who was a friend from New York City.  He's currently the voice of Dr. Venture on the Venture Brothers, and we follow each other on Twitter, but I hadn't seen him in ten years.
From there we all walked down to the restaurant Birds, besides the theater, where we had to check in, and which was doubling as a holding area/backstage. While standing in line, I checked my Twitter account, and there was a tweet from Nathan Fillion:
I wish I were at Night of 140 Tweets @ UCB 2nit ew/ @james_gunn @captdope @mikaelahoover and others.
I read it to Mikaela beside me, and the guy next to me in line said, "I'm Captain Dope!"  His real name is Coltun Dunn, and he's a very funny comedian who I had actually seen do perhaps the best improv show I had ever seen a couple years ago.  Small world.
We checked in and they gave us each a band with a number on it.  I was number 9.  I was like "Fuck yes! I'm the ninth person up! I can do this fucking thing and go home!"
I then ran into Steve Agee, who was also number nine.
"Yeah," he said, "we're divided into groups of ten. We're in the ninth group."  Which meant I was in the 90's, not number nine. Ugh.  But I told my self they were saving the best for the late-middle.
Mikaela, Chantal, James, and I found a booth along the wall and sat down.  We'd be able to watch the show on monitors above the bar.
It wasn't until then, while sitting there, that I realized two things:
1)   This was a big fucking deal.  I started seeing seeing my fellow tweeters file in – Ben Stiller, Will Ferrell, Sarah Silverman, John Stamos, Demi Moore, Ashton Kutcher, Michael Ian Black, Diablo Cody, Brian Greenberg, Bob Saget, Shannon Elizabeth, Demetri Martin, and tons more. And –
2)   Although people sometimes think I'm vain, I actually don't have a very good self-image. However, in a group full of 100 comics, I'm a pretty good-looking guy.  There is probably no easier way in the world to get laid besides standing next to Andy Milonakis for five minutes.
Rainn Wilson showed up and I tried some of my tweets on him.  I told him I might change the pedophilia one to be about him, since more people know who he is that Agee.  He agreed that he would make a better pedophile than Steve Agee.  I also told him another tweet I was thinking of, that's not in the group above, that James had been trying to get me to say.  Rainn laughed hard, so I thought about changing it to that.
At this point, we were very happy to have a table – the entire place was completely packed. I am not a big fan of crowds, so the situation would have been pretty hellish for me if I didn't have my little patch of space.
I discovered that I may not have the most Twitter followers, but I do have a lot of cool folks following me.  Many people who were involved with the UCB, other artists and performers, etc, started coming up to me and saying they followed me on Twitter. I have to admit, it felt really cool. I was really happy all these people knew when I was taking a shit.
The people running the night came on the loudspeakers.  They talked about how they would bring us to the stage in groups, where to go on stage, where to get off, etc.  During this explanation I was tweeting about ass sex with Mikaela:
@james_gunn: I'm auctioning off @mikaelahoover's anal virginity tonight at Night of #140Tweets. It's for Haiti.
@mikaelahoover: @james_gunn ewwwwwww!!!!!!!!
@jamesgunn: @mikaelahoover What, you hate Haitians? Sometimes you can be so selfish.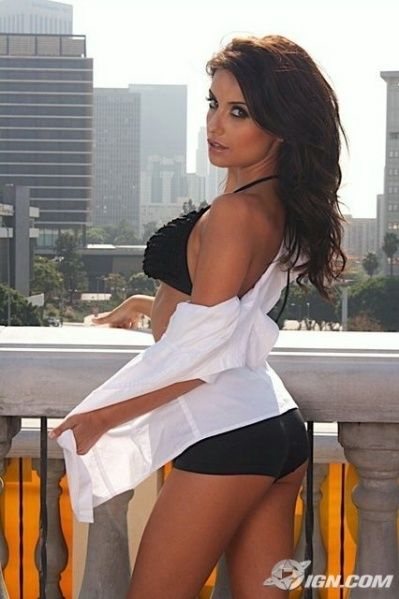 Mikaela.
Meanwhile, the show began, and they started calling us up to the stage in our groups. Unfortunately, the TV system in Birds sucks, so I could barely understand a word anyone said.
I saw Sasha Grey across the room, my PG Porn co-star, and she and her boyfriend Ian came and hung out at the table with us.  Joanna Angel showed up, who I had never met but who was sweet as anything, sat down with us as well.
And then Nathan showed up! He said he got off of Castle early and rushed over to join in the proceedings.  Two rock stars, two porn stars, one Castle, and me and Mikaela – now we had a real party going!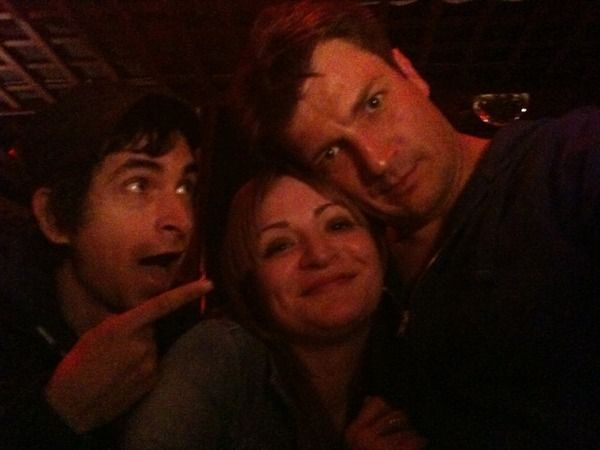 Little Jimmy Urine, Chantal Claret, and Nathan Fillion.
They called group three, Chantal's group, and she went to the stage.  She was nervous, because she was one of only four or so musicians in the whole group – almost everyone else was an actor or a comic.  She said her tweet about how James ruined her childhood by telling her the Little Mermaid wanted legs, not to sing and dance, but to fuck.  It went over great.
Steve Agee dropped by our table and we started talking, very loudly, about how awesome group nine was going to be.  I told him, again very loudly, how my favorite part of the night was how our awesome tweets were going to make everyone else look like shit in comparison. That gives me a really good feeling.

Mad Men's Rich Sommers is committed to Haiti!
The night was moving very fast and surprisingly smoothly.  It wasn't long before they got to group nine.  I moved up there quickly.
As I was getting into line, someone tapped me on the back.  I turned and a guy said, quietly, "Mr. Gunn, I wanted to meet you. My name is Al Yankovic."  That's right, motherfuckers!! WEIRD AL YANKOVIC WANTED TO MEET ME!  He said that he couldn't wait to see SUPER, which he knew all about.  Definitely a supercool moment.
We lined up outside the stage and were put into an order.  The woman there explained to us where we were supposed to go, how to get off the stage, etc.  But I was preoccupied with my friend Julia Vickerman who was standing in a giant Toodee from Yo Gabba Gabba costume.  I made a bunch of jokes about being a furry and wanting to fuck her.  I poked her, looking for some type of slot to stick my penis in.  Toodee isn't much good for furry-fucking because there aren't any really great orifices .
Behind me in line was Mary Lynn Rajskub.  She was shouting inspirational shit and getting pumped up to go on stage.  She asked the woman in charge if she could leave her purse back stage.  I told her that would be perfect, because I was going to get off stage first and I'd like to see what kind of stuff she had in there.
"No way, man," she said. "That's private."
"Not to me," I told her.
The guy in front of me in line, a tall, graying, bespectacled dude, turned and introduced himself.
"I'm Carlton," he said.
I told him my name was James, and went back to prodding Toodee for fuck-holes.  I thought, "Carlton, hmmmmm….?"  Then I realized that that was CARLTON FUCKING CUSE, the creator of LOST, my favorite TV show ever!!   I texted my friend and LOST fanatic John Cabrera that I was next to Cuse and I could hear John Cumming all over himself through the text!!   John told me to ask Carlton the secret of the Island.  So I did.  He said it's all a dream. (In a snow globe.)
Again, the woman in charge explained to us where we were supposed to go, what we were supposed to do, how to get off stage, etc.  I wish I had heard what she said but I was busy checking my Twitter to see what kind of bids I was getting on Mikaela Hoover's virginity.  Among the offers were twenty-five dollars and a half-eaten box of Frankenberry.
Then our group went on stage, one at a time.
I get out there and do my tweet, the one Rainn laughed at, which isn't one I listed on Twitter.  I don't want to tell you now.  Why?  Because you can buy the Night of 140 Tweets on Amazon or iTunes for just $1.99 and all benefits go to help rebuild Haiti. So please preorder it now!!
My spoken tweet gets a good laugh.  And then I look around on stage and realize I DON'T KNOW WHERE THE FUCK TO GO!!  I was fucking around all night and never paid attention to where we were supposed to go!!  I turned around – was I supposed to go backstage again? – no, I kind of remembered they said to go a different way than that.  Then I see one of the volunteers at the front left of the stage waving at me in a panic to come this way.  My idiocy got another nice laugh, and I left.
I went back to Birds.  Nathan went up shortly after me then came back to the booth.  He looked a little uncertain.
"How'd it go?" I asked him.
"My applause was much louder than my laugh," he said.
I told him my laugh was louder than my applause, but I didn't think it meant anything, since way more people knew who he was than who I was.
"Yes," he said. "I'm more famous than I am funny, and you're funnier than you are famous."  He paused, thought about his life a moment, then added:  "I'm okay with that."
Even though more than 140 tweeters actually showed up, the show was over fairly quickly – in an hour and a half or so.  There was a party backstage for the participants.  I met a lot of cool folks, and had a great night.  Paul Scheer told me how panicked he had been over the past few days putting it all together.  But he said it was amazing – only two people out of everyone didn't show up (Christina Applegate, who texted him at the last minute and Jenna Haze, who just didn't show up.  Jenna, what's up, girl??)
Anyway, Paul put a lot of work into it, as did many other people, and, again, I can't believe how smoothly everything went.  With all sincerity, I was honored to be a part of the night, and to be around so many people so rich with talent.  Dave Holmes tweeted the next day: "THIS is how you do We Are the World in 2010!"  And, as pompous as that might sound, it really DID feel like that, or Internet Woodstock, or something that was completely relevant and novel and culturally present, yet all for the benefit of something good.
It was after 1 am and I was still at the party, when I remembered the bidding was over.  So I tweeted:
@james_gunn: I raised $789 for Haiti by selling @mikaelahoover's anal virginity! Thank you, @steveagee – that's going to be a new school!!!
@steveagee: @james_gunn dude, thanks! Best money I ever spent
Preorder Night of 140 Tweets NOW!!!
James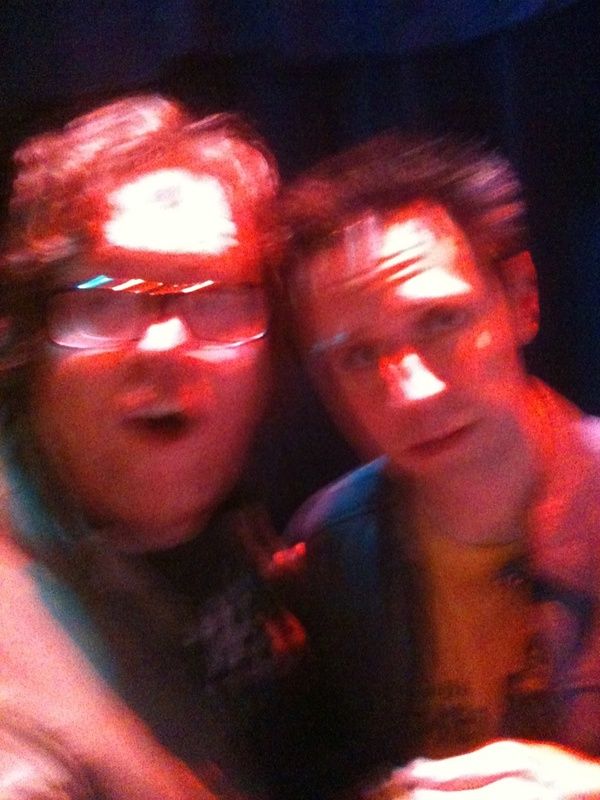 Me and Agee.
Follow James on Twitter.
REGISTER HERE to be a part of JamesGunn.com.
© 2010, James Gunn. All rights reserved.