Mia and I went to a marvelous art opening Friday night at the La Luz de Jesus Gallery in Hollywood. If you're in the area, I strongly suggest you check it out.

Most striking was Scott Hoves "Cakeland" exhibit – for six years Scott has been creating pieces that are a mix of cakes, taxidermy, and pop surrealism: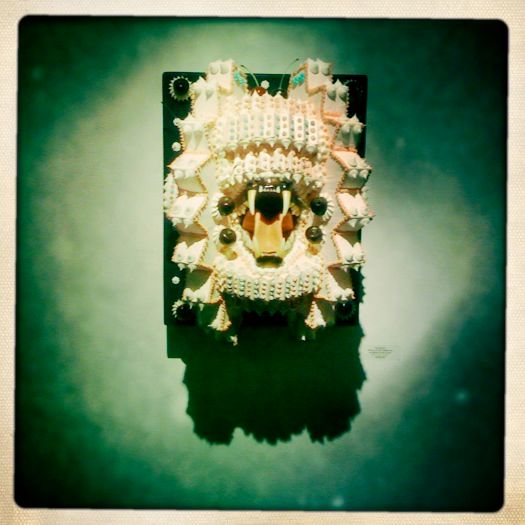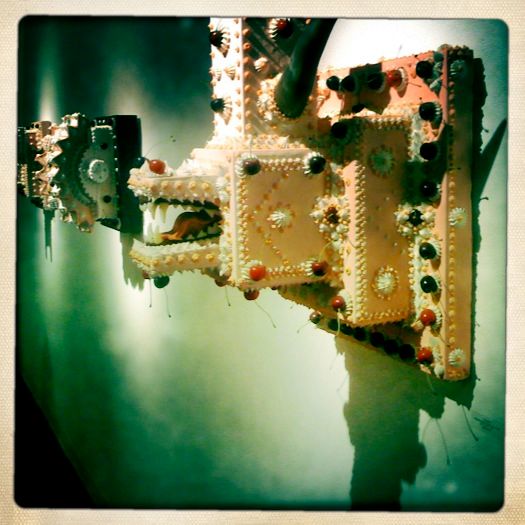 Also amazing, and on display, is the work of Max Grundy, someone whose stuff I've admired for a while: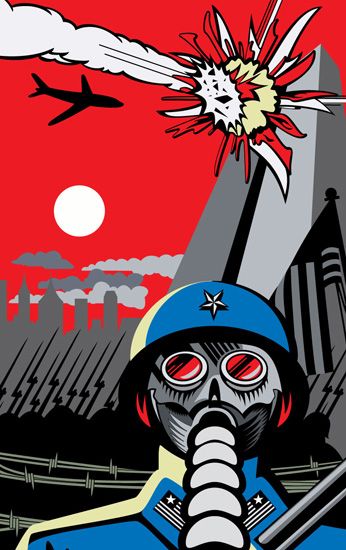 And Dennis Larkins is no slouch: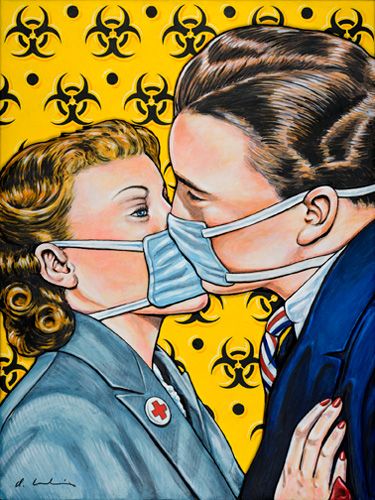 While there, Mia and I had cupcakes:
Also while there, I got perturbed at one of the employees.  Tell me your opinion of the following situation:  Mia and I were very thirsty and we stood in line so we could get a couple glasses of water (the bar was free).  A few girls were in front of us, and a hipster guy came and stood behind us.  We waited there for a few minutes – the girls were taking a little while to get their drinks.  The hipster dude seemed to become aggravated, and just walked in front of me in line and asked the woman there for some wine.  I'm not one to take this sort of thing lightly so I said, "Hey, dude, aren't you butting in front of me?"  He turned to me and said, "Yes, I am, but I'm an employee here."  And then he left with his wine.
Now, the guy didn't seem to be working at that time – he was just there for the exhibit.  So the question is, did he have the right to butt in front of me?
Or, shouldn't he have at least said, "I'm sorry, I work here," AS he was butting in front of me (then I probably wouldn't have been as perturbed)?
And why didn't he go straight to the front of the line?  Why did he waste a few minutes standing behind me in line before getting frustrated and butting?
Mia thought he was a little rude.  I think he's probably out of line, but am minorly confused by it all.  I look forward to hearing your opinion of all this, here or on Twitter, Facebook, whatever. When is butting appropriate?

And even if you think this employee is like a butting-Hitler, don't judge La Luz de Jesus for it. They're an awesome gallery and amazing store.  For more info on this and forthcoming shows, check out La Luz de Jesus on the web <- and PLEASE click on this link, just so they know I'm pimping them!
Okay, thanks.  More stuff soon, including the secret reason behind our recent trip to Las Vegas!
Bye,
James

Follow James on Twitter.
REGISTER HERE to be a part of JamesGunn.com.
© 2010, James Gunn. All rights reserved.