As many of you know, over the past eight months or so I have delighted in shoving my midget girlfriend (she's a legal midget at 4'9″) into small objects.  This was not my idea, as Mia was known to go to container stores and fit herself in plastic containers before we ever met.
However, our personal tradition began on our very first date back in July, when I removed all of the newspapers from a newspaper box on the side of the road and shoved her inside.  When I saw her tiny body curled up there like the bendy dwarfish freak she is, I had a feeling that this was going to be a very special relationship.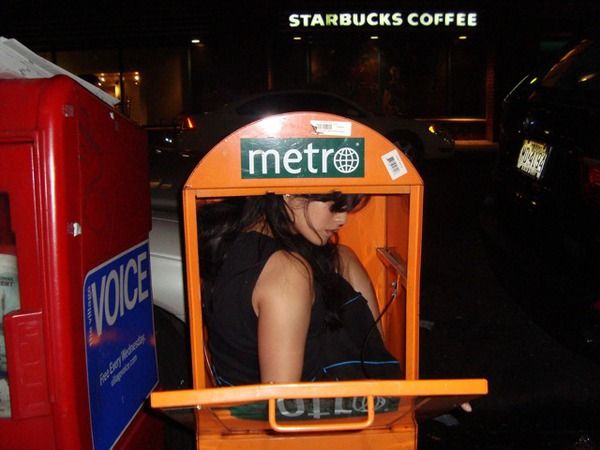 A month or so later, on her first trip to visit me in Los Angeles, I shoved her into my clothes hamper.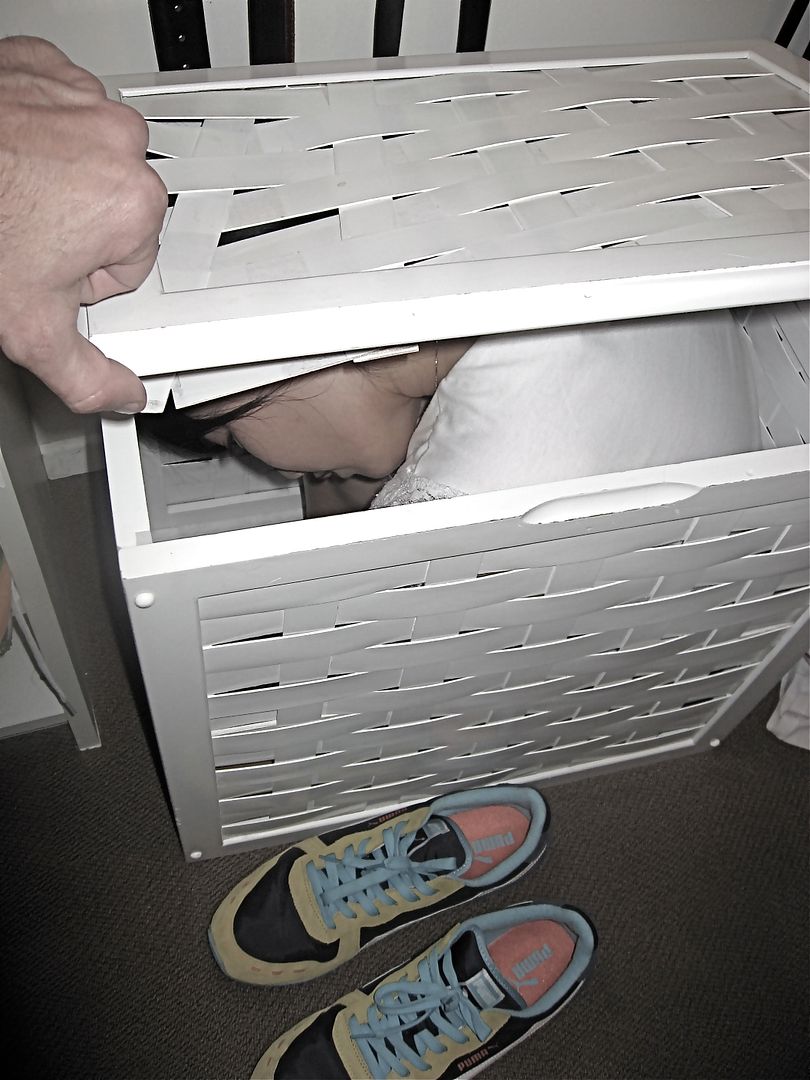 By this time I knew I was falling in love.  I called my ex-wife, who, though it may sound strange, is my most trusted confidant in all things love related.
"Jenna," I said. "Check out my web-site. This girl I met, I made her stuff her body uncomfortably into the hamper in the closet for my amusement, and I posted a photo there so others could laugh at it.  I don't want to rush things, but I think she may be 'the one.'"
As Jenna checked out my web site, she responded, "Why the hell did you get the hamper?"
I knew that meant Jenna had given our relationship her blessing.  After my parents, her blessing was the most important one.
Speaking of whom, I called my Mom not too long after that.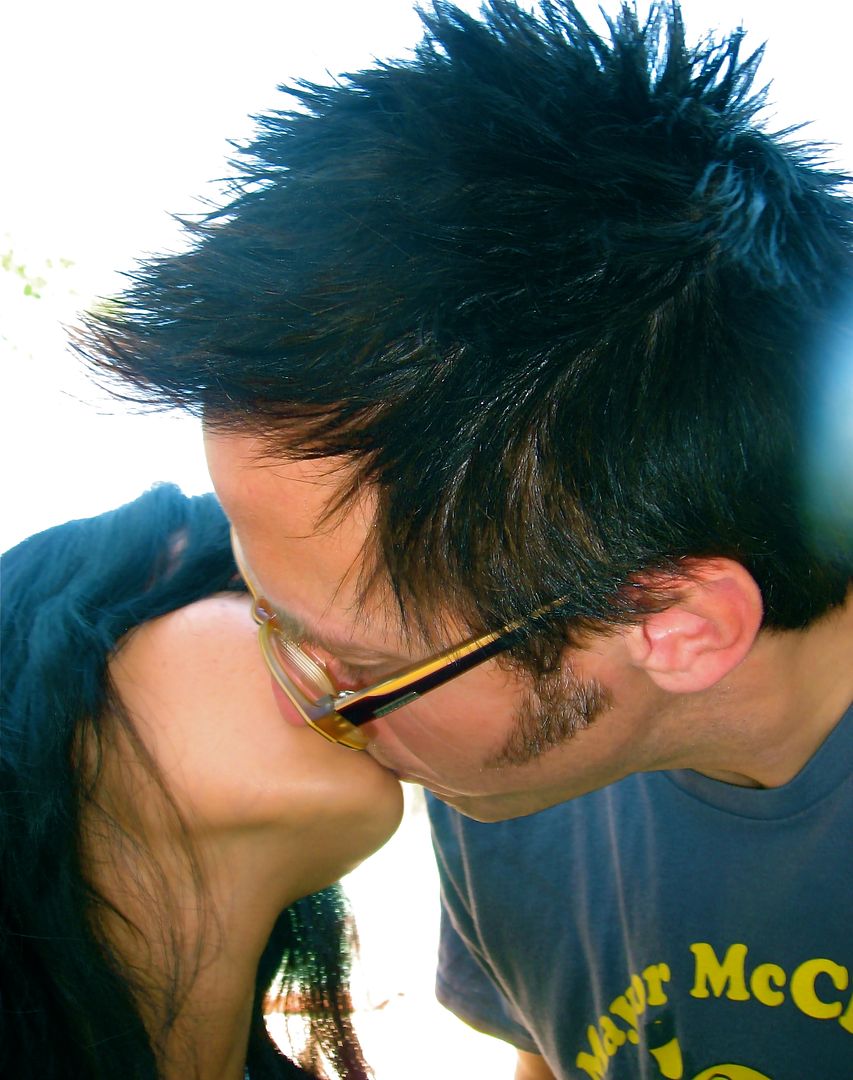 "Mom," I said. "I'm dating this girl I like a lot. She's a little fucking freakish midget."
"Oh, Jimmy!" she said.
"What?"
"Why are you calling her a midget?"
"Because that's what she is."
"Jimmy. She isn't a midget."
"She is too, Mom. Under four foot ten is legally a midget. She can get a free cup of coffee at McDonald's."
"Why does she get a free cup of coffee at McDonald's?"
"Because that's something McDonald's does. They give free cups of coffee to handicapped people and retards and midgets. It's their way of giving back to the community."
"Well, that's very nice of McDonald's.  But don't call her a midget.  I'm sure she wouldn't appreciate that. You're going to screw this one up too."
I emailed my Mom photos of Mia in the newspaper box, and my hamper, and a couple I took of her in Dallas fitting into my luggage, to prove that she enjoyed exploiting her midget-dom for the joy of all. My Mom responded with one word: "Creepy."  I'm sure she meant that in the good way, like "creepy" meaning "rad!"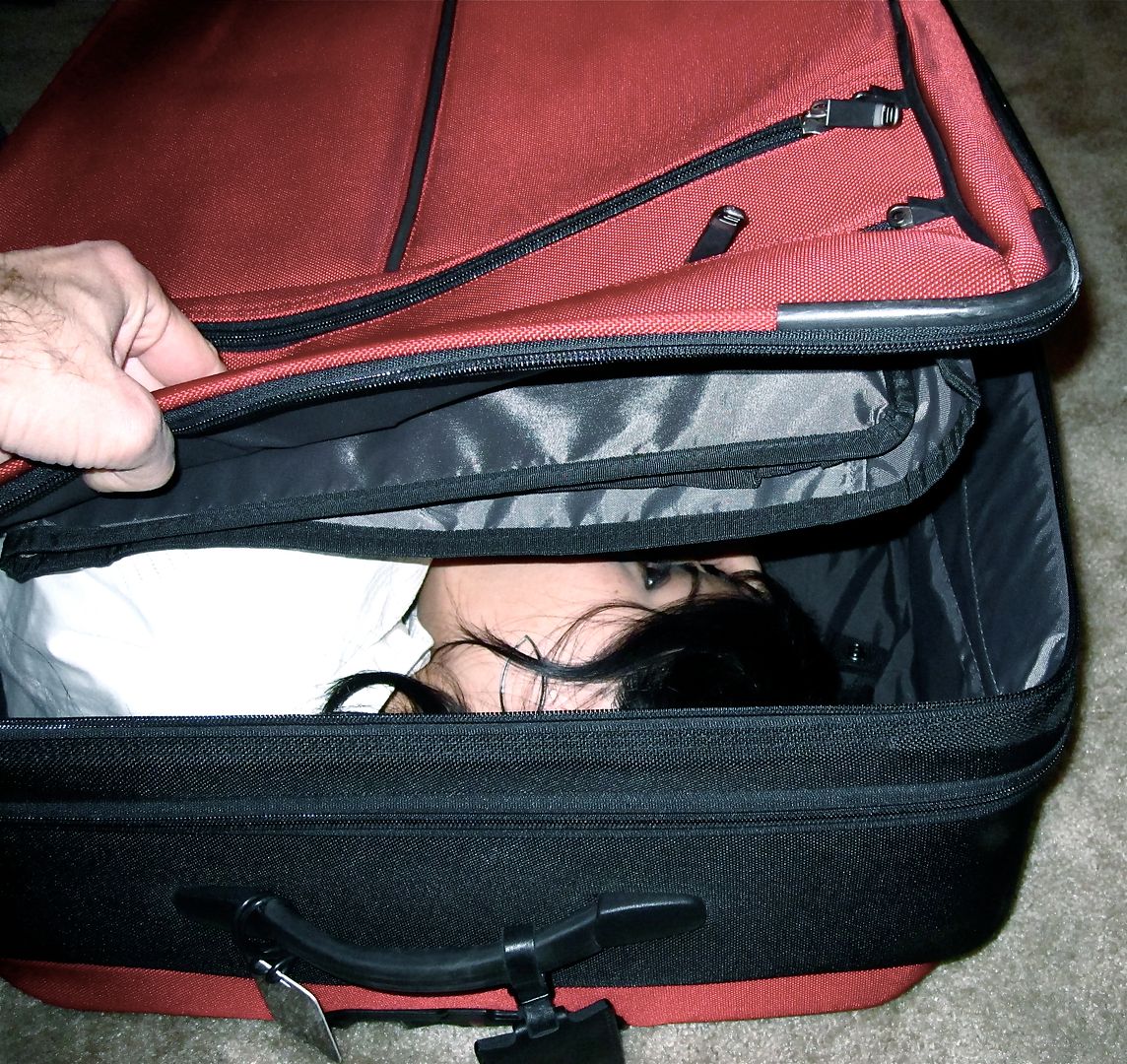 But then, recently, a dark day came. I got a new mini-fridge for my office, and Mia gamely tried to fit inside.  Only problem was, she didn't.
Why kind of midget girlfriend could be so thoughtless as to not fit into a mini-fridge?!  I couldn't believe it.  I was utterly humiliated.  And after I posted the photos of my girlfriend failing to fit into a mini-fridge on Twitter, I was humiliated in front of all of you too.  I honestly thought Mia was a good person, but now I wasn't so sure.  Was she really that newspaper box girl I had met and fallen in love with so many months before?  Or had she changed and become nowhere near as little as I had imagined?  I wasn't happy to do it, but she needed to learn a lesson about what happens to girlfriends of mine who don't fit into things: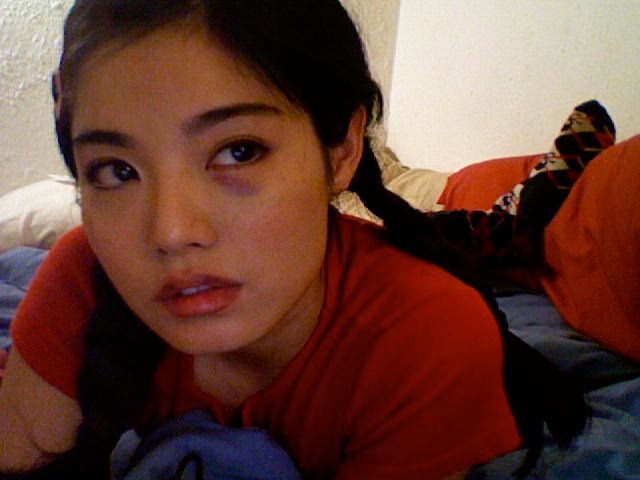 Two days later we still hadn't gotten over this blow to our relationship.  But, while having a small get-together at my place, she looked up at me with her big, brown eyes, bloodshot and bleeding from two days of beatings for not being able to fit into a mini-fridge, and she said, "I need to redeem myself. I need to fit in something really small."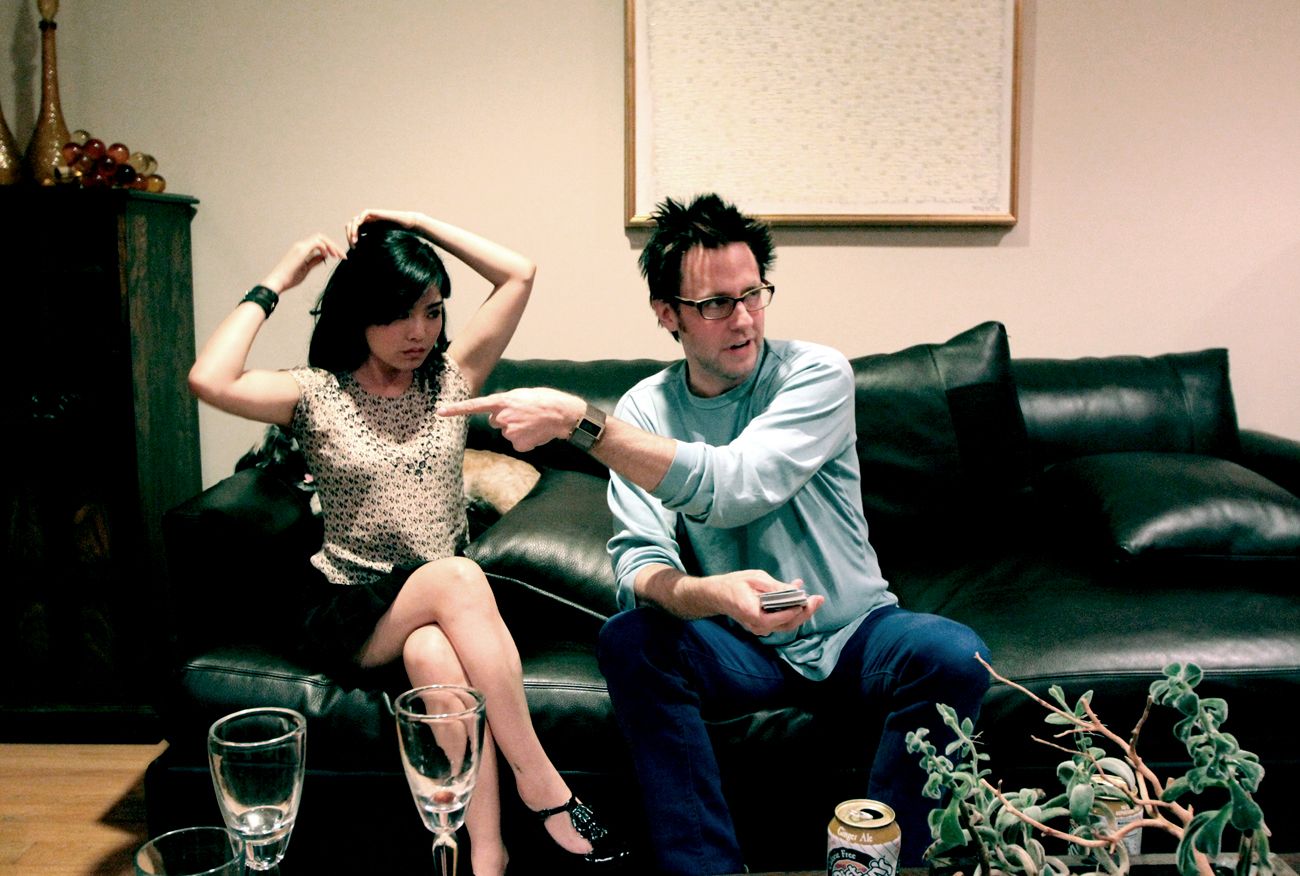 I thought, yes, this could be the thing to save our relationship, and Mia's dignity in general.  But what?  Then someone at the party brought up a pillowcase.  And I just so happened to have a queen sized pillowcase nearby.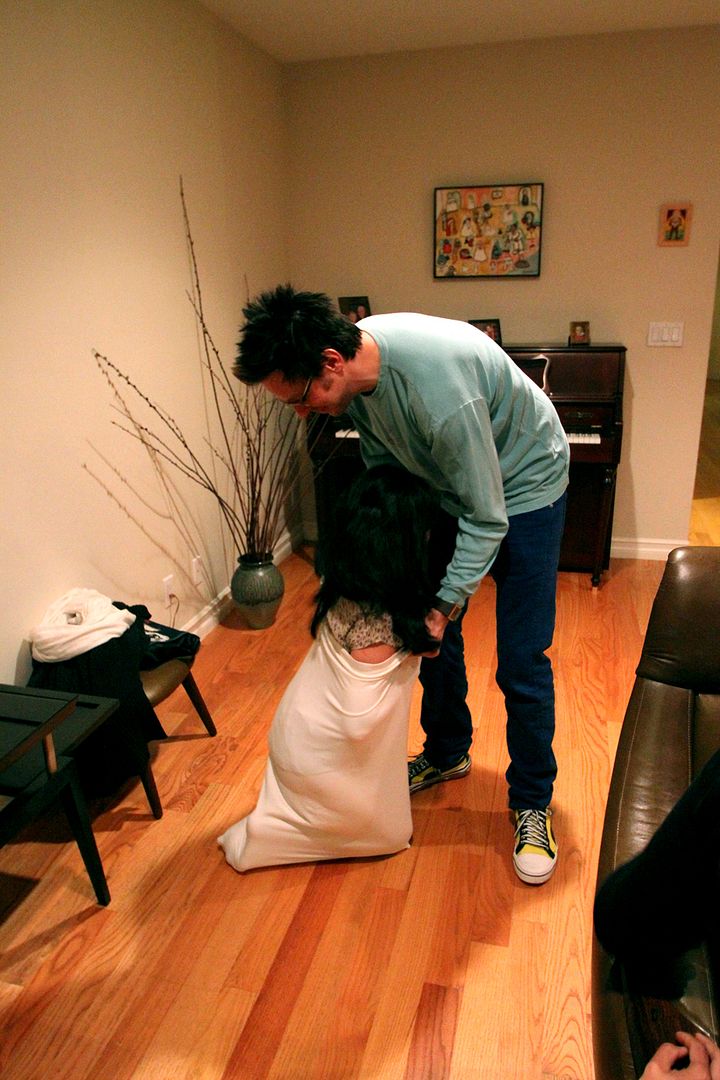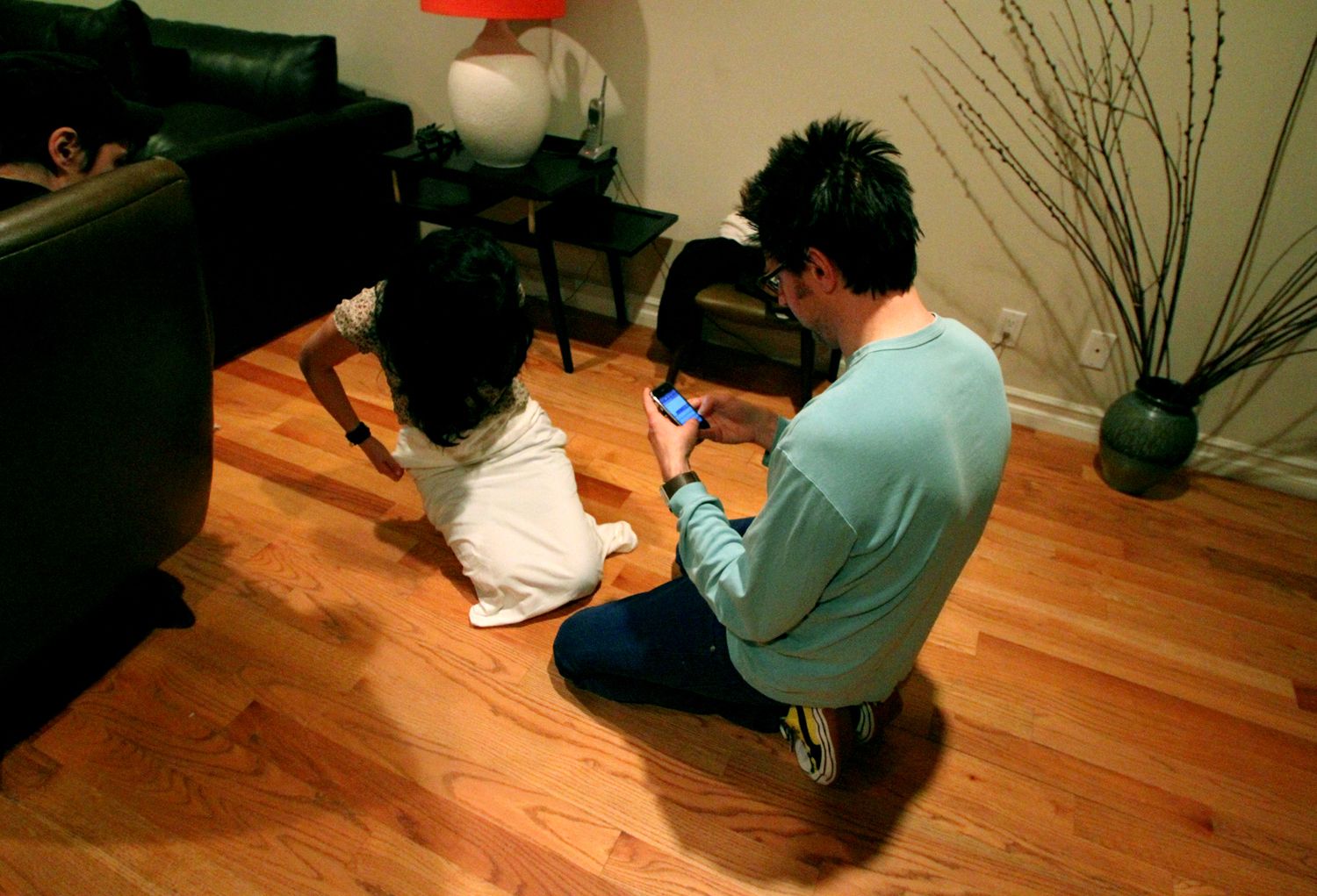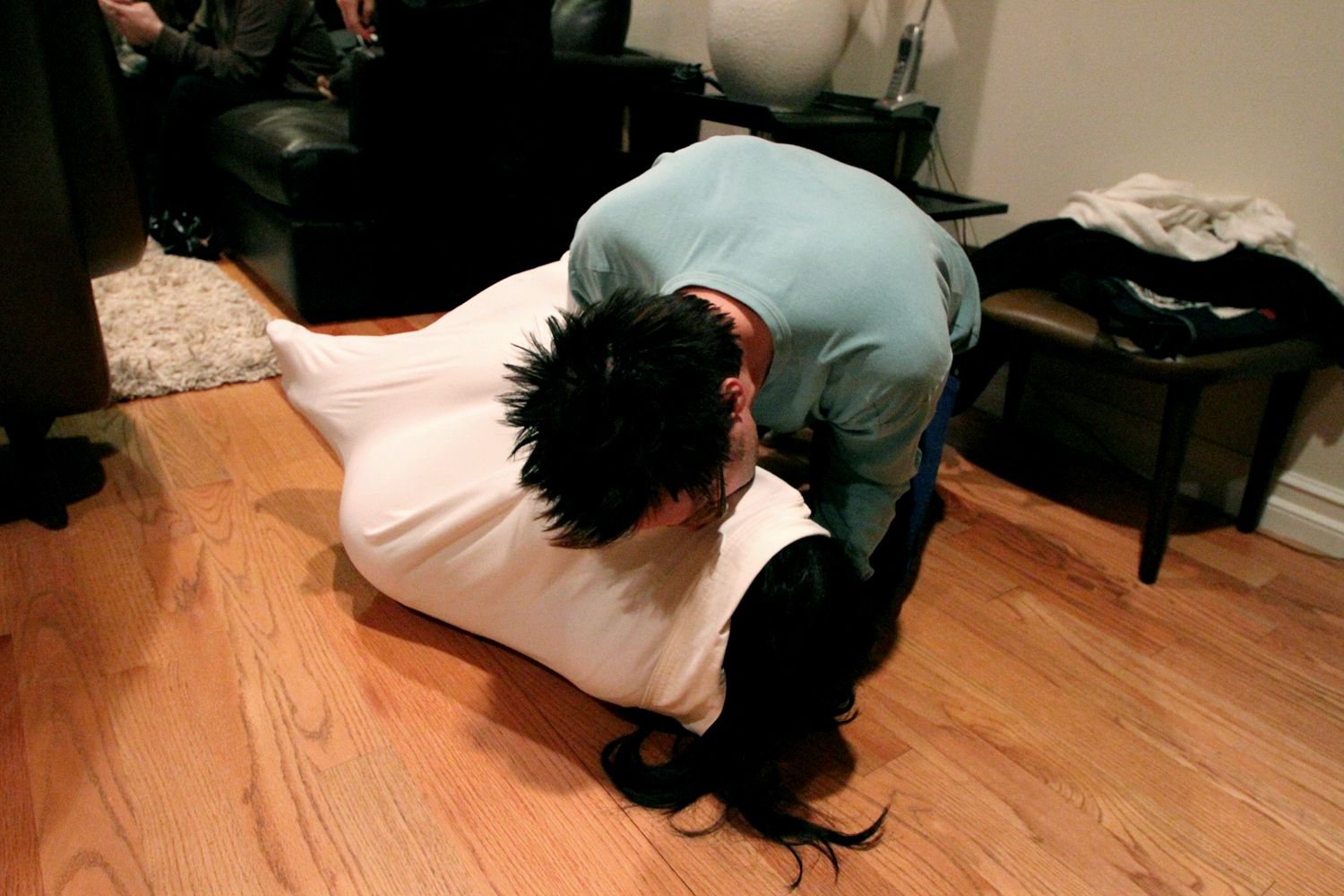 It was the happiest day of my life! Seeing this disgusting little wormy thing wriggling around on the ground, moaning slightly with pain and having difficulty breathing made me realize I once again knew love!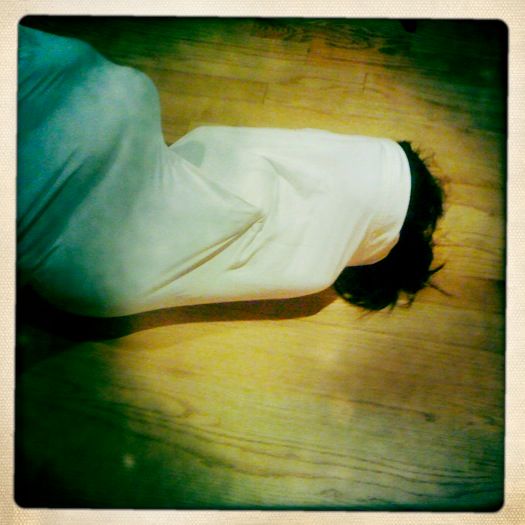 My girlfriend, Mia Matsumiya, is the greatest in the world.
James
ADDENDUM: I know it sounds really stupid that I even have to say this, but I don't REALLY beat my girlfriend for not fitting into small places. Yes, I know, of the 10,000 or so of you who read this blog, 9,977 of you understand that I'm joking, and I really do love my girlfriend despite what she does or doesn't fit into.  But I also know there are at least 23 complete fucking idiots who read this blog and never seem to get even my broadest attempts at humor.  I assure you, had I not written this addendum, I would get at least five or six furious messages wondering how in the world I could so blatantly brag about abusing Mia. (Now that I think of it, they're probably not going to even get this far and will be writing already. So fuck it. Ignore this whole thing. Sorry to have bothered those of you with half a brain.)
ADDENDUM 2: In fact, most of this blog is all made up for your entertainment. Except for the conversations with my ex-wife and my mother which, I swear, are almost 100% verbatim.
ADDENDUM 3: If you enjoyed this blog, or Mia's attempts to amuse all of you and myself by fitting into ridiculously small places, PLEASE PLEASE vote for her band Kayo Dot RIGHT HERE so that they can get a free mixing and recording session. This will help Mia continue to make money off Kayo Dot and have enough luxury time to be doing ridiculous shit like this. (But, honestly, please do me a personal favor and VOTE. Thanks.)
ADDENDUM 4: After posting the photos of Mia not-fitting into the mini-fridge I received a lot of irritating messages trying to tell us how Mia could fit into the mini-fridge by "backing in" or "going in sideways" or "taking out the water bottles", etc, etc, as if we didn't try to shove her ass in there each and every way possible. Believe me. We're smart people. And we're a lot more experienced at folding human beings into small spaces than you are. SHE DOESN'T FIT.
ADDENDUM 5: After mentioning that there was a "shelf" in the bottom of the mini-fridge stopping Mia from fitting completely, I got a good ten anxious messages screaming at me to take out the shelves first. Duh. I took out all the shelves of course. The shelf at the bottom is a built in part of the cooling unit, and it's in most mini-fridges. It doesn't come out. Many of you are really the ultimate backseat drivers of shoving girls into mini-fridges.
All the pillowcase photos besides the last one are by the great Julia Vickerman and you can follow here on Twitter HERE.
Plastic Container Photo by Chris Trela.
Follow James on Twitter.
Follow Mia on Twitter.
REGISTER HERE to be a part of JamesGunn.com.
And don't forget to please go VOTE FOR KAYO DOT NOW!
© 2010, James Gunn. All rights reserved.