A few days ago I posted this thing on Twitter, asking if anyone knew what kind of animal it was and that I had found it eating its own eggs in my backyard: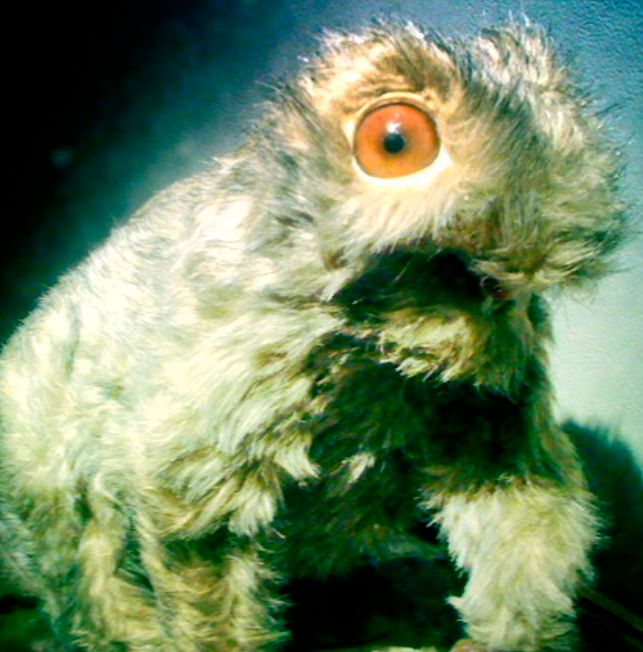 I then posted pics of this, saying I had found it rummaging through the trash in my kitchen: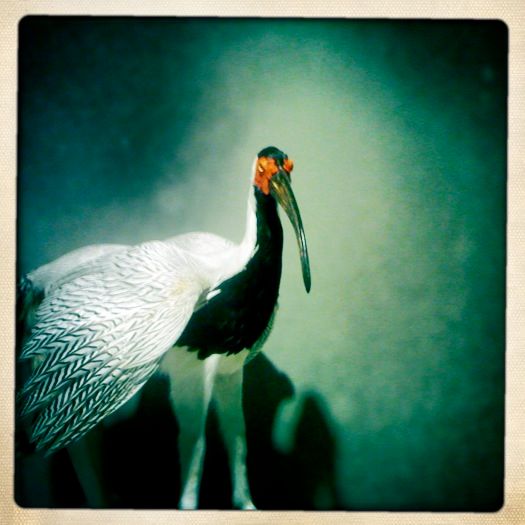 Although a few of you were fooled, most of you knew these weren't actually real animals.  They're both actually from the new show Rogue Taxidermy at La Luz de Jesus in Hollywood. It's a collection of art created from both real and faux animal bodies.  The show is curated by Robert Marbury (creator of the first thing above), Scott Bibus, and Sarina Brewer, and houses some of the coolest art I've seen in a long time.
Jessica Joslin did some of my favorite pieces at the show like this one, "Delfina."
She also did this one, "Luca." This was perhaps my favorite piece in the entire show, and I would have bought it if I wanted to spend the 6,500 bucks. I thought about it.
La Luz de Jesus is run by my old friend and former Troma employee, Matt Kennedy. One night Matt tried to hypnotize me and failed. But, to offset that failure, he was also the one who came up with the idea of stuffing Mia into a pillowcase. So it more than evens out. In a strange coincidence, Matt is sporting a tattoo by one of Mia's best friends, Heung-Heung Chin.
Certainly one of the most disturbing pieces in the show was "Storyteller 2: 2010" by Scott Bibus. Storyteller is made from actual cat (don't kill me for posting this, guys).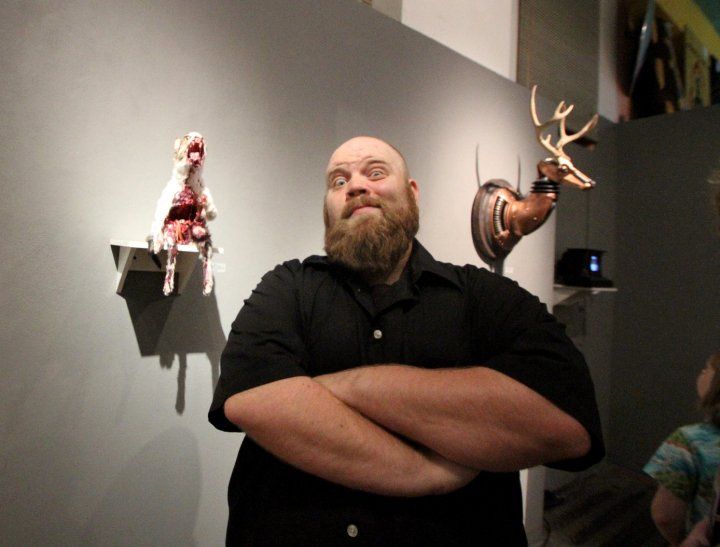 I think it's important to point out that Scott, pictured here, didn't hunt and kill a cat to make his art. He's also a super nice guy. We talked for a long time about XBox and our favorite video games.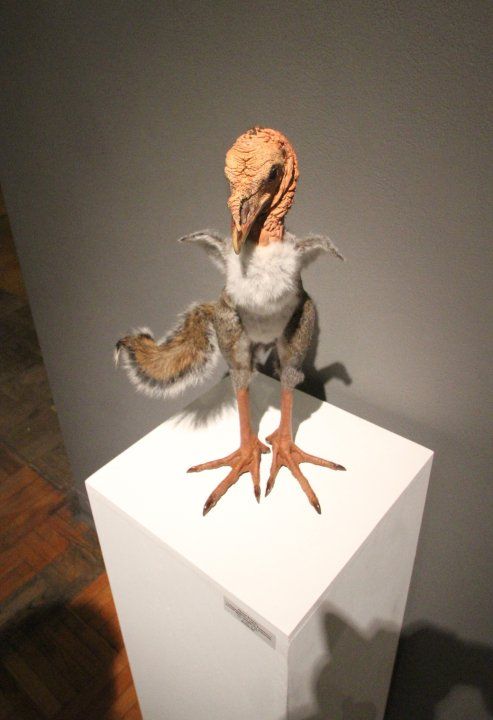 Here's the impressive "Turkelaeopteryx (aka Squirkey)" by Sarina Brewer.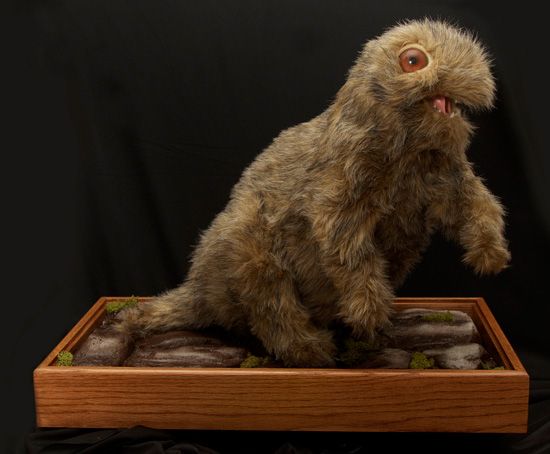 A better shot of Robert Marbury's "Phineas (Rhombomys magus)" – this one has no real animal parts.  I don't think it has sold yet and I'm thinking of getting it. I think it's art that Von Spears would enjoy/growl at. Thoughts?
And better shot of Enrique Gomez de Molina's absolutely incredible "Cherub" (also a lot of money at $6,000 – why are you pricing me out of this stuff, Jesus?)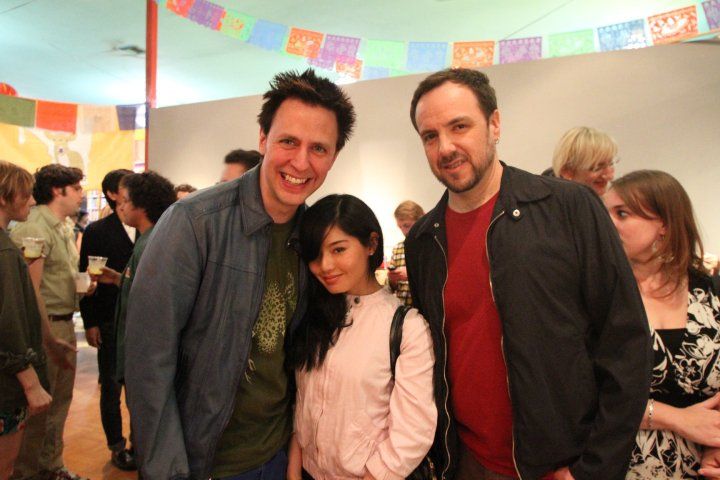 While there Mia and I ran in to my old friend, the famous fetish photographer Steve Diet Goedde. We also saw my Twitter-pal Diablo Cody (it was only the second time we had met in person), porn star Andy San Dimas, and our good pal and SUPER animator, Julia Vickerman (who took most of these photos that don't look like shit and weren't stolen from the La Luz de Jesus web site).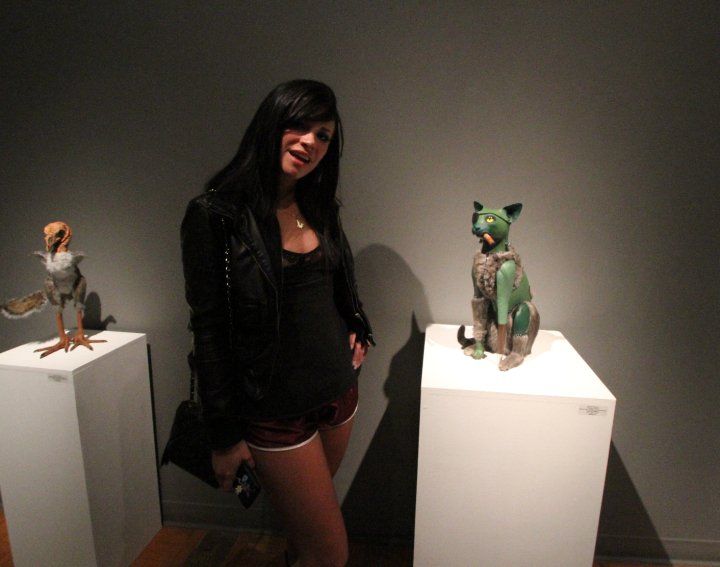 In fact, here's the beautiful alterna-pornster Andy San Dimas with another Sarina Brewer work, "Franken-Pussy."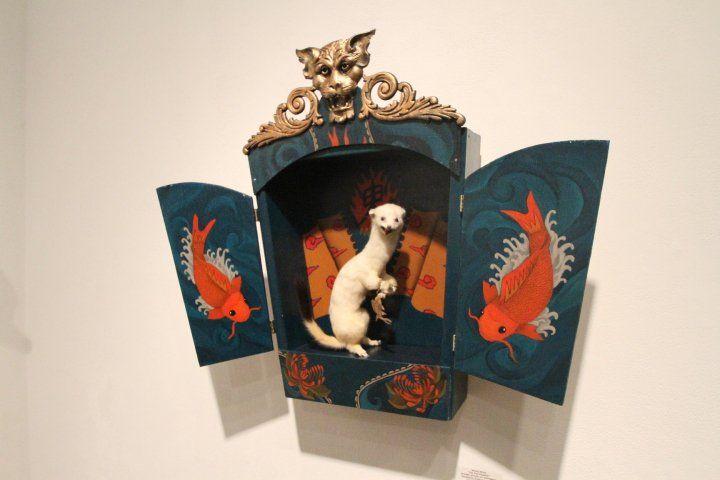 Mirmy Winn's "The Evil Piscator."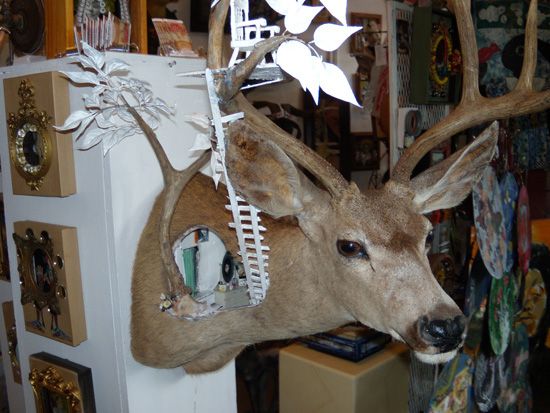 Brooke Weston's "Cotton."
Me and Mia buying too much stuff at Wacko, the store of weird wonderfulness attached to the gallery. For those of you who like to gawk at the size difference between the two of us, this is a pretty good example (note her heels, however).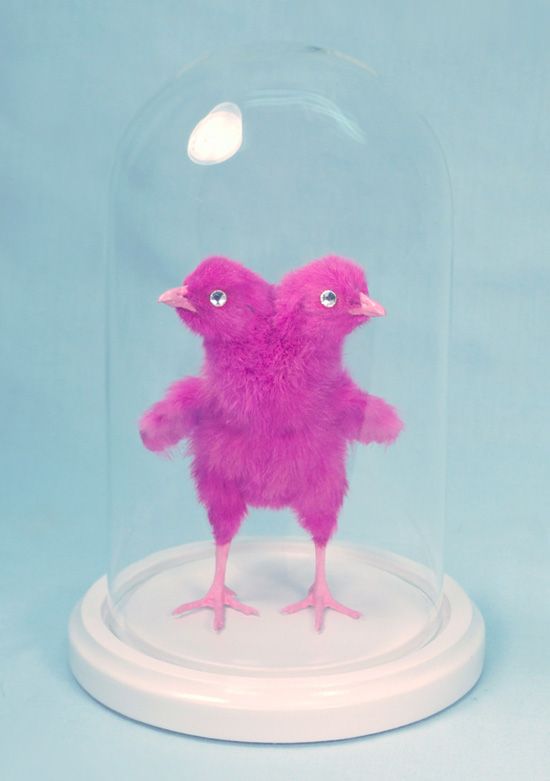 Sarina Brewer's "Pimped Peep."
Brian Poor "Deerhead Chingadera" (this thing moves around!)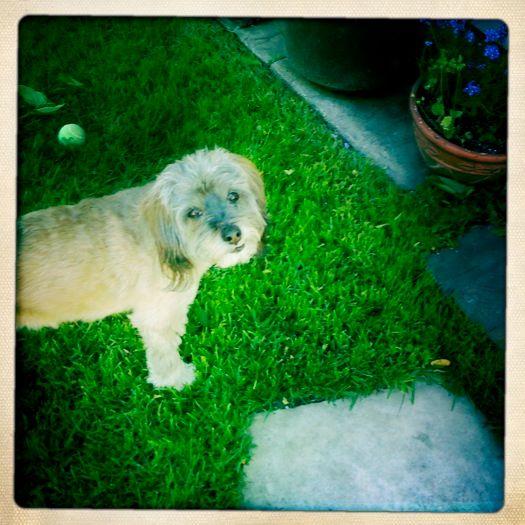 Dude, honestly, I think I could do some cool shit with you. Instead of jumping on my crotch when I'm trying to sleep (thank you, yesterday morning), you could probably make a really cool installation in the corner of my living room. At least now I have something to hold over your head when you misbehave. "Von Spears, get in here now, or I'm going to mount your head on a possum's body and put you in a fucking tutu!"
Anyway, the show will continue to be showing at La Luz de Jesus for the rest of the month. If you are in L.A., I strongly suggest you swing by and check it out.
Follow James on Twitter.
Join James on Facebook.
REGISTER HERE to be a part of JamesGunn.com.
© 2010, James Gunn. All rights reserved.