Ah, another birthday, come and gone. In honor of the past year, I present you these wonderful photos, some never before seen, some not so never before seen:
With the great Boltie the bunny on the set of SUPER. Probably the cutest little motherfucker who ever lived. He actually appears in the film!
I came into the kitchen one day and found Mia doing this. I have no idea why.
I hung out with Mikaela last Halloween. She told me she was going to be a fairy so I told her, what the hell, I'll be a fairy too. When she showed up to my house she was a 1980's workout chick. The above is my reaction to being a lone fucking fairy.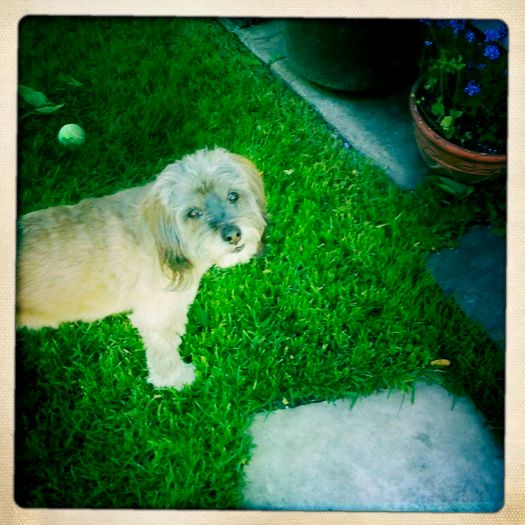 Perhaps my favorite two photos of Von Spears from the past year.
Mia on slothback at the La Brea Tar Pits. We joked that if she ever broke up with me, she wouldn't have to tell me. She could just MMS me this photo, and I'd get the point.  She's off to new adventures!

Boltie again, with Rooker. Two seconds later she ripped his face off. It was awesome.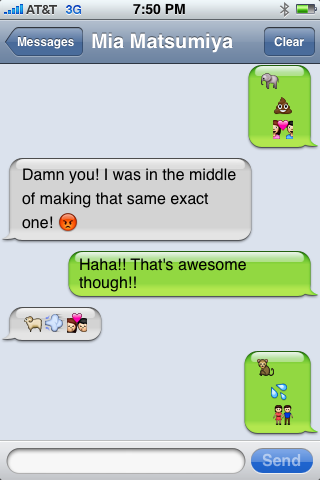 Mia and I send lots of iemojis to each other. Am I a thirteen year old girl? you ask. Well, yes, actually I am.
Here is one of my favorites.
With my cinematographer, Steve Gainer, on the set of SUPER, laughing at one of our shots. Ted Hope, in the background, obviously doesn't think it's so funny.
This was the coldest day on set! We shot in Louisiana because the temperatures were more moderate than they were in Detroit, where we originally wanted to shoot. But they didn't seem so moderate on this particular, below 10 degrees day. But I guess I didn't have it so bad – on the other side of the lens is Ellen Page in her skimpy spandex outfit.
With Lloyd Kaufman, my old boss from Troma Entertainment. Every public appearance I ever make I'm accosted by some disgruntled Troma fan asking me why I cut Lloyd out of SLiTHER. You'll all be happy to know all of Lloyd's two lines in SUPER are intact.
Rainn Wilson's horse loved my tomato juice.
This year for the Fourth of July, Mia and I decided to give out traditional Japanese treats.
A warning to those at one of my brother's Sunday night parties not to share everything we do online (that's for me to do). Shirt courtesy of Pants Not Found.
Stuffing Mia in a cabinet.
While in Shreveport, I went to a roller derby with Ted Hope and our first AD Sheri Davani. The best part was watching these local mascots roll around the rink. They really couldn't see where the fuck they were going and kept running into walls and falling down. It was magically pathetic.
With a baby alligator in New Orleans.
Without a doubt one of my favorite moments of the year was marching in a parade down the streets of New Orleans after my buddy Pete Alton's wedding. Pure, exuberant joy.
Mia's feet with a fetal skull.
My brother Sean's kitten, The Business, was found abandoned in some bushes. Sean and his girlfriend Gina had to bottle feed it to keep it alive. Here he is at only a couple weeks old. Cute as fuck and totally deranged.
Me and my good pal Michael Rosenbaum eating at Fred Segal. While this was happening, paparazzi neither of us saw were snapping our photos. They showed up online the next day.
My favorite part of the moose is where I put my penis.
Von Spears somehow did this to himself.
Mia at the Sunny Jim Sea Cave in San Diego. We had to go down this very steep, extraordinarily long stairwell – and Mia was wearing high heels.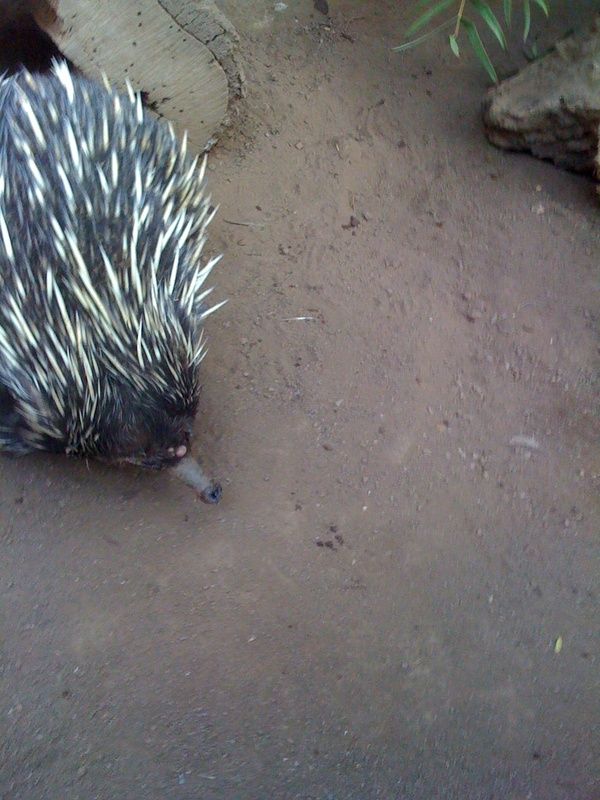 My second-favorite egg-laying mammal, the echidna, at the San Diego Zoo.
One of our Masters of Horror dinners. I think I was able to make three this year.
The stormy sky while driving home from one of my last days shooting SUPER (this time in L.A.) We were close to the finish line, and I was overcome with emotion. It was beautiful.
Follow James on Twitter.
Join James on Facebook.
Sign up for the SUPER mailing list here.
REGISTER HERE to be a part of JamesGunn.com.
© 2010, James Gunn. All rights reserved.